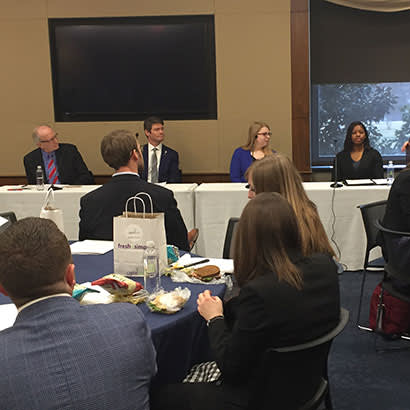 Last week, NRPA had the privilege of joining the Arthritis Foundation, the American College of Rheumatology and other national partners on Capitol Hill for a day of meetings with Hill staff and a lunchtime briefing highlighting the high cost ($300 billion) and increasing prevalence of arthritis in the United States. NRPA's Health and Wellness program manager, Lesha Spencer-Brown, sat on the panel and shared the impact that funding from the Centers for Disease Control and Prevention's (CDC) Arthritis Program has had on the availability and reach of arthritis-appropriate evidence-based physical activities programs such as Active Living Every Day, Walk With Ease and Fit & Strong!, that help improve the health and quality of life for people with arthritis.
Since 2013, one or more of the CDC Arthritis programs has been offered at more than 140 local park and recreation agencies, including 517 program sessions offerings at 303 different park and recreation sites, reaching more than 12,000 participants nationwide.
To date, NRPA has provided funds to support programming in a total of 46 states. Unfortunately, with current funding levels, the CDC itself can only directly fund 12 state health departments and five national organizations to disseminate arthritis health information and evidence-based programs, including NRPA. By increasing funding to additional states and national organizations with presence in local communities throughout the country, the total reach and availability of the program offerings will be significantly expanded.
Therefore, NRPA asks Congress to fund the CDC Arthritis Program at $16 million to continue its critical work to improve the quality of life for people with arthritis nationwide.
We thank our partners in the Arthritis Coalition for our continued collaboration on advocating for the CDC's Arthritis Program and the Congressional Arthritis Caucus for hosting the briefing and encouraging members of Congress to make funding for arthritis research and program dissemination a priority.
To learn more about NRPA's arthritis work, contact Lesha Spencer-Brown.
If you currently offer one of the CDC's arthritis programs and would like to invite your member of Congress to see the program in action, contact NRPA's Advocacy and Outreach Manager, Jayni Rasmussen.