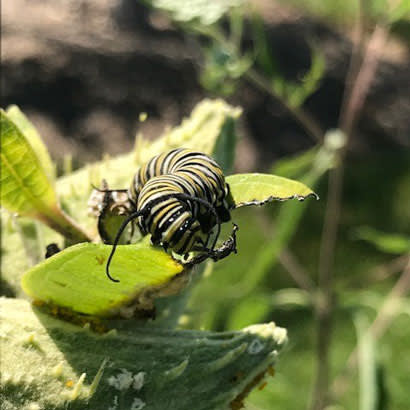 Almost everyone knows what a monarch butterfly is. Whether it's due to their stunning beauty, or their status as an indicator species for the perilous situation our pollinators are in, people everywhere recognize these orange-winged beauties! And to support them, milkweed is a must! It is the monarchs' main food source and is an essential habitat.
Understanding the importance of supporting pollinators, NRPA planted a pollinator garden at our headquarters a few years ago. It is made up of a variety of pollinator supporting plants, including milkweed. Now an established garden, we are seeing the fruits of our labor — monarch caterpillars! While we see several varieties of pollinators in our garden, we are excited to see our habitat is helping future monarchs. We are hoping to see chrysalises soon, and then new monarchs ready to make their journey south for the winter. Now is the kick off time for the monarch migration, so keep an eye out for them as they are traveling south!
You and your communities can join in, even if you don't have monarch caterpillars or a pollinator garden. Report the monarchs you do see to Journey North or another citizen science platform. Citizen science is a valuable asset to the scientific community — scientists rely on the public's help and observations to understand the monarchs' conservation needs. It's also a great way to get your community out into nature and learning new things. What better way to create nature lovers and future scientists than to make them a part of a cause!
Our garden is just one of many, as we believe most parks have some form of pollinator garden or native habitat to support the needs of pollinators. We are trying to determine how park and recreation agencies are currently helping pollinators through habitat creation and enhancements through our Pollinator Habitat Survey. If you haven't already submitted your agency's information, don't worry, its short, simple and easy to do! As we know, parks can make a huge difference in habitat and wildlife corridors for all wildlife, including pollinators.
Remember to plant your milkweed and other pollinator loving plants, so you can be ready for next year's caterpillar season!
Take the Pollinator Habitat Survey!
Michele White is a Conservation Program Manager for NRPA.