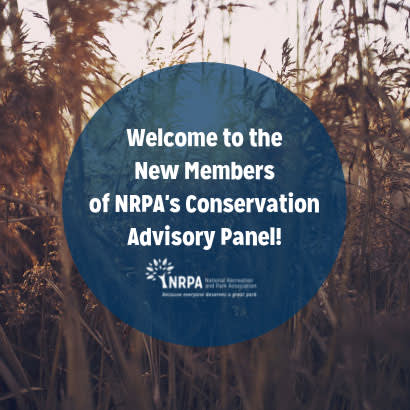 We are excited to welcome the newest members of the NRPA Conservation Advisory Panel. The panel provides feedback and subject matter expertise for NRPA's conservation programs and initiatives and serves as a sounding board for new ideas and practices that help to provide guidance to the NRPA staff.
Attila Bality, Acting Program Leader, Rivers, Trails & Conservation Assistance Program, National Park Service
Attila is an outdoor recreation planner with the National Park Service Rivers, Trails & Conservation Assistance Program. He has been involved with parks, trails and open space issues in New Mexico and the southwest for over 25 years. Attila's work is focused on helping local communities improve and enhance parks, open space, trails and river corridors. Many of his projects engage youth in planning and on-the-ground activities.
More recently, Attila's interests have focused on parks, trails and community health. He was instrumental in creating the Albuquerque Prescription Trails program as a way to get new people to use Albuquerque's parks and paths. He is co-lead for the National Park Service Healthy Recreation Community of Practice providing resources and training for staff across the country that are integrating community health into parks and trails projects. Attila works closely with the Centers for Disease Control and Prevention Healthy Places program in the development of tools and measurements to increase the value of parks and trails to the public health sector. He has a BS, Recreation & Leisure Services from Virginia Commonwealth University and Masters in Recreation from the University of New Mexico.
Emy Brawley, Associate Director, The Conservation Fund
Emy Brawley is an Associate Director with The Conservation Fund. She is responsible for the management, strategic direction and public outreach for the Fund's work with the Milwaukee Metropolitan Sewerage District and the City of Ann Arbor to implement the Greenseams®, Working Soils®, and Ann Arbor Greenbelt programs. Emy also serves as the Fund's representative for the Chicago Wilderness region to help offer the full array of the Fund's programs and services to its conservation partners.
Homer Garcia, III, Assistant Director, City of San Antonio Parks and Recreation Department
Mr. Homer Garcia III was born and raised in San Antonio and has been with the City of San Antonio organization since 2001. In his 17 years of service with the city, Homer's municipal experience includes audit, human services, animal care services and nearly a decade of service with the parks and recreation department. As Assistant Director, Homer oversees park operations including park maintenance; urban tree canopy; green initiatives; natural resources; and the Edwards Aquifer Program, which has protected nearly 155,000 acres over the Edwards Aquifer, San Antonio's primary water source.
Roslyn Johnson, Deputy Director of Facility Operations, Maryland-National Capital Park and Planning Commission
Roslyn Johnson is the deputy director of facility operations for the Maryland-National Capital Park and Planning Commission's Department of Parks and Recreation in Prince George's County, Maryland, where she leads innovative recreation programs. In the past 10 years, she has held deputy director and associate director positions in park and recreation agencies in Richmond, Virginia, the District of Columbia and Baltimore, Maryland.
Johnson has presented at several NRPA events, taught during the inaugural year of the Graduate Institute at Oglebay, been a member of the Urban Park Directors group since its inception and NRPA's Public Policy Committee, served a short stint on the Program Committee, been a member of the Board Nominating Committee, was a diversity mentor, young student/professional lunch pair, and has assisted with the Urban Parks Summit.
Johnson graduated from the University of Maryland, College Park, with a major in elementary education.
Jack Kardys, President, J. Kardys Strategies and Chair, NRPA Board of Directors
Jack Kardys is the Chair of the NRPA Board of Directors and recently retired director of Miami-Dade Parks, Recreation & Open Spaces Department (MDPROS). He is also president of J Kardys Strategies, has served as president of the Florida Recreation and Park Association (FPRA) and currently serves on the FRPA board.
Over the course of his career, Kardys has received several awards, including the NRPA R.O.S.E., FRPA Distinguished Service and American Society for Public Administration Administrator of the Year Awards, and led MDPROS to earn two Florida Governor's Sterling Awards and the FRPA Agency Excellence Award.
Kardys holds a bachelor's degree in sports administration and a M.S. in management, respectively, from St. Thomas University. He has served as an adjunct professor at Florida International University, teaching organizational behavior, marketing and recreation programming, and as an instructor and curriculum planner for the FRPA Abraham's Leadership Academy.
Kelli Ondracek, Natural Resources Manager, City of Houston Parks and Recreation Department
Kelli Ondracek is responsible for assessing, restoring, and managing natural resources within the City of Houston's parks. She has over 13 years of experience in restoration, wildlife research, and habitat management. Prior to her employment with the City of Houston, Kelli worked for the Environmental Institute of Houston, Armand Bayou Nature Center, U.S. Fish & Wildlife Service, and as an Environmental Consultant for Fenstermaker. She holds a B.S. Business Administration from Nicholls State University and both a M.S. Environmental Science and a M.S. Environmental Management from University of Houston-Clear Lake.
Heather Sage, Director of Community Projects, Pittsburgh Parks Conservancy
Heather Sage is the Pittsburgh Parks Conservancy director of community projects, Parkwaters, a special division responsible for the development, design, construction, and monitoring of green infrastructure projects in city parks. She works in collaboration with community partners on new and ongoing park-based projects, providing project management, and serving as a liaison between the city of Pittsburgh and project stakeholders. She manages community engagement opportunities and focuses on projects and programs that expand the ways that people can benefit from the parks in their lives. She has a B.A. in zoology and a Master's in environmental science from Miami University.
Taj Schottland, Climate-Smart Cities Program Manager, Trust for Public Land
Taj Schottland is the Climate-Smart Cities Program Manager at The Trust for Public Land. He has eight years of experience working as an adaptation and resilience specialist, project manager, and restoration ecologist. In his current role, he works with diverse cross-sector partnerships across the country to advance multiple benefit green infrastructure projects in underserved communities. Previously Taj worked for the National Wildlife Federation where he managed local and regional coastal resilience projects that protected human communities, priority habitats, and wildlife from climate-driven threats. Taj has a B.A. from the College of the Atlantic where he studied environmental law and policy.
Greg A. Weitzel, Director, Idaho Falls Department of Parks and Recreation
Greg A. Weitzel has 20-plus years of experience in the field, having served as department director of parks and recreation for three cities of various population sizes on the east coast and pacific northwest. He has served on numerous nonprofit and community boards and currently serves as IPRA CEU coordinator in Idaho, which recently was the host city for the Idaho and Montana annual conference. Weitzel also serves as an ambassador and lead playground installer for Kids Around the World. He served for more than 10 years on the Pennsylvania Recreation and Park Society Governmental Affairs Committee and ended his tenure as chairman and was instrumental in helping to save more than $600 million in key funding from elimination in the state budget.
Matthew Graul, Chief of Stewardship, East Bay Regional Parks District
Our newest members join our currently serving panel members, who include:
Rob Aldrich, Director of Community Conservation, Land Trust Alliance
Jai Cole, Natural Resources Manager, Montgomery County Department of Parks
Priya Cook, Principal Associate for the Connecting Children to Nature initiative, National League of Cities
Brendan Daley, LEED AP, CPRP, Director of Strategy & Sustainability, Chicago Park District
Chris Matthews, Division Director for Nature Preserves and Natural Resources, Mecklenburg Parks and Recreation
Autumn Saxton-Ross, PhD, Mid-Atlantic Regional Director, NatureBridge
Michele White, CAE, IOM, is NRPA's Conservation Program Manager.