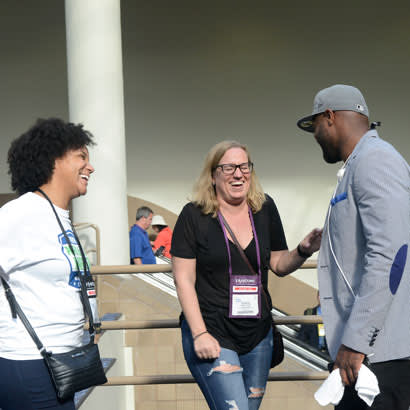 The first time I attended the NRPA Annual Conference, when I set foot in that wonderland known as the Exhibit Hall, my jaw dropped. The space felt simultaneously vast and packed, with whimsical play equipment at every turn of my head, and colleagues from all over the country chattering with contagious excitement.
Attending the conference certainly gives a jolt of stimulation to your mind and your professional development. Eventually, though, we must return home to routine and — dare I say — mundaneness. However, you don't have to allow the post-conference letdown to stymie you. When you get back, you can keep the engagement and growth going by reaching out to contacts old and new.
Engaging Coworkers
Chances are you'll arrive home brimming with new ideas. Why not take the initiative to share those concepts with coworkers who weren't able to attend? You can approach this as formally or informally as you like — whether you arrange a presentation or just type up your notes and share them. Either way, proliferating the knowledge you've gained from the conference means your organization gets a bigger bang for its buck in sending you.
At Tualatin Hills Park & Recreation District, those of us who presented at the 2017 NRPA Annual Conference organized a panel and Q&A session back home for coworkers to learn about the experience of being a presenter. We covered topics from how to put together a session proposal (a catchy title and interactive elements go a long way), to traveling with presentation materials (my travel buddy kept her rolled-up posters with her at all times as we flew to the conference), to "owning" a media fail (my co-presenter acted out the video clip that wouldn't play for us).
Obviously, it's not just presenters who come back with a wealth of information to share with coworkers. Our group of attendees debrief together first on what we learned at the conference and what that means for our organization, then we look for ways to spread those insights.
The planners in our design and development department who attend the conference gather photos of parks and facilities during the trip, then they give a presentation to their colleagues to generate new ideas and stay up to speed on what's happening in other regions.
THPRD's Future Trends Team reserves a few minutes at the start of our first post-conference meeting so the members who attended the conference can share highlights and interesting tidbits with the rest of the team. Last year I touched on concepts I'd gleaned, ranging from adding "Recreation" into the STEAM acronym (STREAM) — Science, Technology, Recreation, Engineering, the Arts and Mathematics — to a new recreation center in Denver whose exterior walls light up according to where the building is being used.
Growing Your Network
Sharing your newfound knowledge with coworkers is just part of the equation. The other half of the cure for letdown is to reach out to new contacts you made at the conference — strangers you befriended while walking through the convention center or sitting on the shuttle on the way to an Off-Site Institute or attending the Opening Reception, speakers you admired and would like to thank, fellow attendees who took a liking to the same topics you did. You did bring business cards with you, I trust?
The potential for keeping in touch and collaborating means we can expand our industry's mission with that much more intent and fervor. It's our way of carrying a bit of that wonderland home with us. And, it takes up less space than a scroll of rolled-up posters.
Katherine Stokke is the Interim Operations Analysis Manager for Tualatin Hills Park & Recreation District in Beaverton, Oregon.