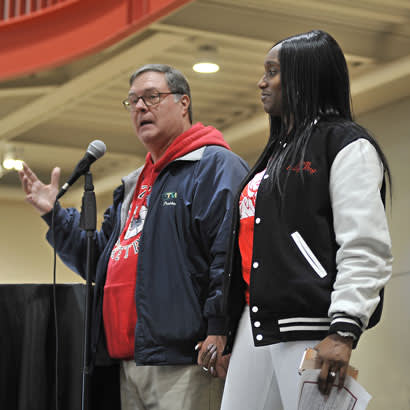 In life, there are people you meet and immediately know you won't forget. Last weekend, at a Park Champion event in Tacoma, Washington, that happened to me. As the crowd gathered for the parade at the soon-to-be-opened recreation center, someone stepped on to the stage that I won't forget. Her name was Shalisa Hayes. She was dancing along to the drumline with a giant smile on her face and enthusiastically hugging each of the speakers who made their way to the podium. I wasn't exactly sure what her role in the festivities would be, but I quickly learned.
You see, this community center in the Eastside community of Tacoma would not have been built if it wasn't for Shalisa. Seven years ago, Shalisa's 17-year-old son, Billy Ray Shirley III, asked her how he could open a community center so that he and his friends would have a safe space. Shalisa wasn't exactly sure how to answer that question. She wondered aloud if it would take renting a gym and maybe hiring staff to supervise the kids. At the time, the Eastside community lacked a proper community center space.
Six months after having this conversation with his mother, Billy Ray Shirley III was killed by gun violence in his community. His mother had every reason to retreat from her community. She had every reason to be angry that the community had failed her and her son. Instead, she decided to take action. At Billy Ray's funeral, Shalisa promised to make his dream of a community center a reality. She started at the local level, working with the mayor, city council and Metro Parks Tacoma. She didn't stop there, though.
Shalisa teamed up with a state representative and asked Washington state for help in getting a community center in Eastside Tacoma. When Shalisa saw a chance to chat with Washington Governor Jay Inslee, she took it. She jumped on the elevator with the governor and by the time he arrived at his floor, Shalisa had convinced him to support funding for the project.
The work of Shalisa and her friends (known as Team Billy Ray) didn't stop at the state level. Shalisa also worked on the federal level with Senator Cantwell and Representative Denny Heck to see how they could help support the project. Representative Heck suggested the New Market Tax Credit (you'll hear more from NRPA about this in an upcoming Parks & Recreation magazine article) as a way for Metro Parks Tacoma to help fund the project.
It wasn't easy, it wasn't quick, but Team Billy Ray was successful in getting that community center. On Saturday, October 20, the $32 million community center opened to the public. This is no ordinary community center. The 55,000-square-foot center features a café, a recording studio, an amazing pool with a two-story waterslide, a gym, fitness room, a community room and a home for the Boys and Girls Club of South Puget Sound. My favorite feature of the building is a slide from the lobby to the lower level gym and activity area (next time I'm in the Pacific Northwest, I'm going down that slide)!
Representative Heck attended the groundbreaking, hence my attendance to support a fantastic Park Champion event for Metro Parks Tacoma. This event opened my eyes to the lifesaving work that park and recreation agencies do daily. Shalisa Hayes opened my eyes the power that one person can have on their community.
*Pictured above: Shalisa Hayes, mother of Billy Ray Shirley III, and United States Representative Denny Heck at the opening of the Eastside Community Center (Photo courtesy of Metro Parks Tacoma).
Kyle Simpson is NRPA's Senior Government Affairs Manager