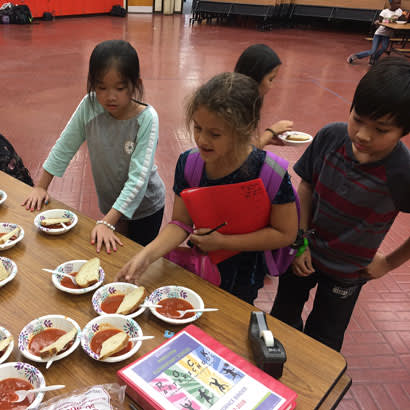 Over 10.2 million kids attend an out-of-school time (OST) program each day across the United States. Many of these programs take place in park and recreation sites, especially during the summer months when school is out and youth engagement is key. Kids in these programs spend countless hours receiving academic assistance and mentoring, participating in enrichment activities like STEAM, youth sports and music, and enjoying the opportunity to engage in unstructured play with their peers. Since 2014, over 300,000 children have also gained access to healthier meals and snacks, additional opportunities to be physically active, evidence-based nutrition education and outdoor play through NRPA's Commit to Health campaign being implemented in OST sites nationwide. These 1,650+ sites have pledged to implement the Healthy Eating and Physical Activity (HEPA) standards in an effort to create healthier program environments and ensure that youth have access to the best possible health and wellness outcomes. Parks and recreation, YMCAs, Boys and Girls Clubs, school-based sites and other OST providers across the country are all dedicated to this mission and share the same dream of a healthier generation of youth.
An additional component of these critical OST programs is the opportunity to provide healthy meals and snacks to children in underserved communities through the USDA child nutrition programs. These federally funded summer and afterschool meal programs enable park and recreation agencies to serve free and nutritious meals and snacks to program participants, many of whom live in food insecure households. Almost 60 percent of park and recreation agencies participate in the Summer Food Service Program (SFSP) or the Child and Adult Care Food Program (CACFP) to provide meals and snacks at outdoor parks, community centers, school-based sites or through mobile feeding programs. Additionally, many agencies partner with the local school district to provide meals through the National School Lunch Program (NSLP). These communities are utilizing federal dollars to not only keep kids engaged and learning during the summer months, but to ensure that the kids they serve (18 and under) don't have to worry about where their next meal is coming from.
For the fourth year in a row, NRPA has received a $1.5 million grant from the Walmart Foundation to bring the Healthy Out-of-School Time movement to life in communities across the country. The 2018 grant supports local park and recreation agencies in their efforts to reach more children through the USDA child nutrition programs and provide additional healthy living opportunities through the adoption of the HEPA standards. Funding will be directed to achieving three main goals, ultimately creating healthier and more sustainable communities:
Increasing the number of meals served to children through

SFSP

,

CACFP

or

NSLP

in

underserved

communities;


Implementing evidence-based nutrition education through

NRPA's

Foods of the Month curriculum that increases healthy eating knowledge and creates behavior change; and


Implementing healthy eating and physical activity (

HEPA

) standards and adopting wellness policies through

NRPA's

Commit to Health campaign in

OST

sites to create sustainable impacts.
Working towards these three goals ensures multiple community-wide benefits, including addressing childhood hunger and helping to lift low-income families out of poverty, providing healthier environments for youth that support access to physical activity and nutritious foods, and providing youth and staff with evidence-based nutrition education to increase healthy living knowledge and change habits of daily living, including fruit and vegetable consumption. Hundreds of park and recreation agencies, large and small, have experienced the impact of this grant opportunity over the years, including Costa Mesa, California, who is making "healthy eating and physical activity fun and exciting" across their community. Check out this great video summarizing their work in 2017!
Funding can be used for meal service equipment, transportation, staffing, marketing, healthy living opportunities, family engagement and enrichment activities, including nutrition education and community gardening. In addition, these year-long grants provide numerous opportunities for collaboration, networking, training and technical assistance to ensure that grantees can sustain this work in the future.
By providing healthy meals at no cost, a safe space to play and educational opportunities for kids and staff, park and recreation sites across the country continue to lead the way to healthier, more equitable communities.
Recently, we were thrilled to learn that the City of Anniston Parks and Recreation Department received the Alabama Recreation and Parks Association 2017 Innovative Program of the Year Award for their work on Commit to Health! They won the award for the program they instituted with the Healthy Out-of-School Time Grant they received last year. Congrats to the City of Anniston Parks and Recreation Department!
Apply today to join the healthy out-of-school time movement and make a difference in the lives of those who need it most!
The deadline for applications is March 16, 2018.
Register here for a free webinar on February 20, 2018 to learn more.
For more information and to apply for a $25,000 Healthy Out-of-School Time Grant click here.


Allison Colman is a Program Manager for NRPA.