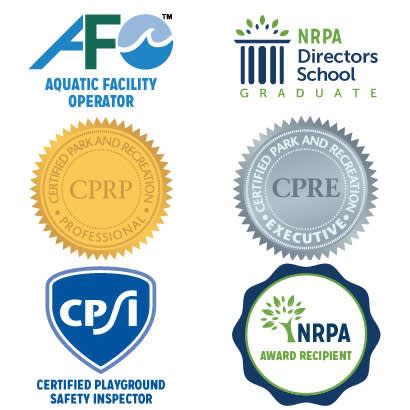 With over 150,000 full-time professionals and over 10,000 park and recreation agencies nationwide, how can you be recognized? Accredited Agencies, Certified professionals, Directors School Graduates, and Spotlight Award-winners have already put in the time and effort to accomplish great things, but now they can add to that recognition with NRPA Digital Badges.
What are NRPA Digital Badges?
Digital badges were created to provide park and recreation professionals and agencies a way to be recognized for their accomplishments, while providing others a way to verify these accomplishments.
Where can I use NRPA Digital Badges?
Digital Badges can be added to email signatures, your resume, websites and social media (LinkedIn, Facebook, Twitter)*. NRPA has also added Digital Badges to your NRPA Connect Profile. Signature sample below:
For more information on how to share your achievements with NRPA Digital Badges, click here.
*Professionals are required to remove their Digital Badges if their accomplishment expires.
What kind of information is revealed when someone clicks on my Digital Badge?
NRPA Digital Badge pages include information about your accomplishment. This will vary from badge to badge, but examples include general information, program requirements and term length. They also provide a "Verify This Achievement" button that allows users to verify current status.
To visit an NRPA Digital Badge landing page, click here.
How can I get my own NRPA Digital Badge?
NRPA Digital Badges can be obtained by achieving one of the following, click on the name to obtain more information.
Julie A. Boland, CPRE, CAE is NRPA's Vice President of Membership and Certification.