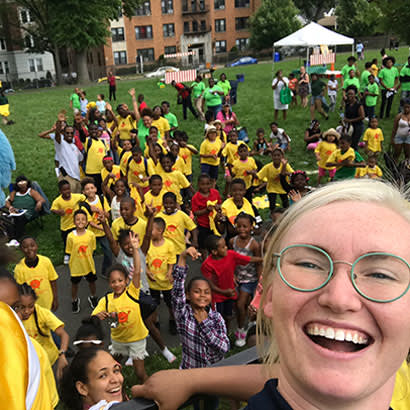 When you're a suburb of NYC, the Big Apple is usually seen as the place to be. But this past Friday, the event of the summer was 30 minutes west in the Big Orange — East Orange, New Jersey, that is. East Orange Recreation and Cultural Affairs kicked off their summer meal program and second-annual Park Champion event with a bang and a bouncy house in Rowley Park. MC'd by local celebrity DJ Lil' Man, the event featured bouncy houses and slides, games, dance contests, face painting and, of course, free healthy meals and snacks for kids through the USDA Summer Food Service Program.
Ravi Boze-Adams, Program Director for Afterschool Meals & Summer Food and a dedicated Park Champion, used the Park Champion Advocacy Toolkit to invite East Orange's members of Congress and their staff out to the event. Jeremy Julius from Senator Robert Menendez's office was in attendance, and although Senator Cory Booker and Congressman Payne, Jr. were unavailable, they sent congratulatory letters that were read during the opening ceremonies. Julius saw first-hand the importance of the USDA summer meal reimbursement program to the children of East Orange as well as the agency's work to create a healthier community through the Commit to Health initiative. He event stated that he wants to make his attendance an annual tradition!
In addition to the presence of federal elected official staff, Boze-Adams also had officials from the Trenton office of the USDA and the New Jersey Anti-Hunger Coalition in attendance. I also traveled from Washington, D.C. to read a statement declaring the event a Park Champion event.
By inviting members of Congress and staff to the summer meal program kick-off event, East Orange Recreation and Cultural Affairs is leading the fight for the future of parks and recreation. Do you have a summer meal program, park dedication, ribbon-cutting, groundbreaking or special event coming up? Make it a Park Champion event by inviting your members of Congress! Tell us about an upcoming event where a member of Congress or their staff will be present, and I can send or, if my schedule allows, read in-person a statement declaring the event an official NRPA Park Champion event.
Remember, if you host a Park Champion event by August 31, you'll be eligible for the Park Champion of the Year Award! Recipients of this award get special recognition at NRPA's Annual Conference, a feature in Parks & Recreation magazine, and airfare and lodging for two in the winning agency to travel to Washington, D.C. in spring 2019!
Plan Your Park Champion Event with The Toolkit

Jayni Rasmussen is NRPA's Advocacy and Outreach Manager.