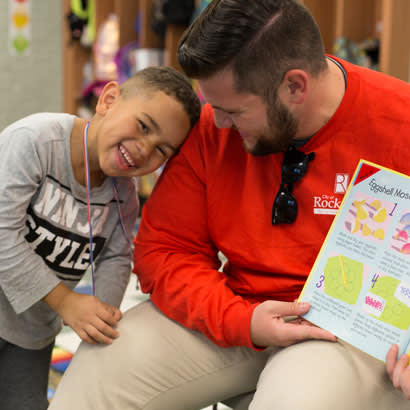 As community-based providers of quality and effective health, recreation and social/emotional development to youth, local park and recreation professionals function as mentors and role models. Park and recreation staff are called upon to mentor and nurture youth in their communities, including troubled, at-risk and high-risk youth. They often serve as the "one caring adult" for youth who experience neglect and/or trauma in their household, encouraging and inspiring youth to live healthy lifestyles and pursue creative outlets.
Mentors have a positive effect on students that are at-risk of falling off track. Those young people who meet regularly with their mentors are 52 percent less likely than their peers to skip a day of school, and youth with recurring behavioral problems who have a mentor maintain better attitudes towards school. Evaluations of mentoring programs report significant increases among youth in self-confidence, self-efficacy and a positive attitude about their futures.
Unfortunately, 1 in 3 young people in the United States reaches the age of 19 without having a mentor of any kind. This number includes 9 million at-risk youth who are missing out on the critical support and connections that mentoring can provide. NRPA encourages park and recreation agencies to start to close this gap by offering youth mentoring programs and helping at-risk youth gain access to mentors.
The Office of Juvenile Justice and Delinquency Prevention (OJJDP) within the U.S. Department of Justice administers a federally-funded Youth Mentoring Grant Program. Grants are provided to youth-serving organizations nationwide in support of mentoring programs. More than $824 million in grants were awarded between 2008 and 2017. The agency also provides critical research, training and technical assistance, and publications to help inform the mentoring field.
The Youth Mentoring Grant Program must be annually appropriated (funded) by Congress. Currently the appropriations amount has not yet been finalized for this fiscal year. Join us in asking Congress to fund the OJJDP's Youth Mentoring Grant Program at $100 million in the final FY2019 spending bill.
Finally, mentoring is being utilized as a means of addressing national challenges. As communities across the country struggle with the effects of opioid misuse and abuse, mentoring programs have responded accordingly. When strategically integrated into initiatives, mentoring strengthens efforts to prevent drug and other substance abuse, supports young people experiencing opioid addiction in their families, and promotes healthy decision-making, positive behaviors, resiliency and strong futures. As the opioid epidemic continues to rise in the United States, NRPA encourages park and recreation agencies to consider youth mentoring programs as a prevention strategy for youth impacted by opioids (including youth who are currently using or have used opioids, youth at high risk for using opioids and youth with family members who are currently using or have used opioids).
Kate Clabaugh is NRPA's Senior Government Affairs Manager.