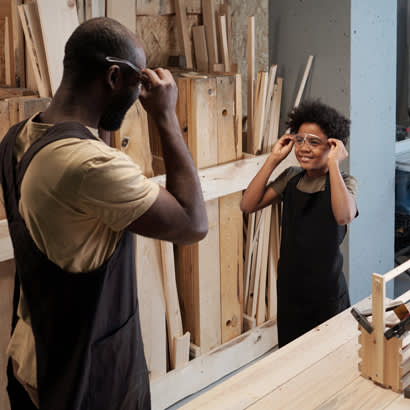 The Centers for Disease Control and Prevention (CDC) recently released the new Youth Risk Behavior Survey results, finding 57 percent of teen girls reported feeling persistently sad or hopeless. Shockingly, nearly seven in 10 youth identifying as LGBTQ+ expressed similar feelings. On the heels of International Women's Day (March 8, 2023) and in advance of LGBTQ+ Pride Month in June 2023, these findings are a sobering reminder of the challenges youth — particularly girls and LGBTQ+ youth — face while growing up. Having a mentoring relationship with a caring adult can be a successful way to promote a strong sense of self and feelings of belonging, building community, encouraging exploration, and driving mental and physical well-being.
But in their recent report "Who Mentored You?," MENTOR found that the "mentoring gap appears to be growing." They found how fewer youth report having had a mentor today compared to a decade ago. The youngest group is particularly impacted. Today's 18–21-year-olds (young Gen Zers) are four percentage points less likely to have been mentored than their 22–24-year-old Gen Z peers. This same younger group is 10 percentage points less likely than Millennials (25–40 years old) to have had a mentor growing up.
Fortunately, park and recreation agencies are well-positioned to address this gap in mentoring among the younger generation. But how can agencies begin their own mentoring programs? How can they formalize mentoring into their existing youth development offerings? Read on; NRPA is here to help.
We are committed to championing youth mentoring in park and recreation settings through NRPA's Mentoring in Parks and Recreation initiative. A previous blog post detailed key participant outcomes achieved by five grantee agencies involved in a recent 3-year grant program. This blog post relays additional perspectives on what these agencies learned from their experience establishing and running their youth mentoring programs.
Agencies leveraged their park and recreation assets to maximize mentoring.
To start and expand their mentoring programs, grantee agencies leaned into their existing park and recreation facilities, programs and networks. Some leveraged their facilities (gyms, pools, parks) while others used their existing programming (afterschool activities, youth sports, camps) to reach youth and invite them to participate in the mentoring program. As known contributors in the community, grantee agencies also relied on their contacts and networks — particularly in the local school district — to recruit mentees and mentors and secure broad-based support.
Beyond recruitment, access to their facilities and programs remained instrumental throughout the grant because they help to support regular mentee/mentor engagements. For many matches, getting together simply meant meeting at a park or recreation center to play basketball, make arts/crafts, or participate in some other fun activity organized or supported by agency staff. Mentors recognized the unique position of park and recreation departments to facilitate mentoring. At the start of their mentoring, mentors asked agency staff for access to facilities, planned activities, and materials/equipment for them to use with their mentees.
Recruitment

of

adult

mentors

p

osed

c

hallenges

.
Through a network of referring partners, staff were more likely to report a consistent pool of mentees but lacked enough committed mentors to match them with. Most agencies found it challenging to get adults to pledge to a year-long commitment or two hours per month. Others found it hard to recruit/retain mentors willing to volunteer their time and not receive compensation. For others, program-required background checks limited some adults from becoming involved (due to failure or aversion to having a background check conducted). Finally, recruiting mentors reflective of the mentee population — diverse in race — was a widespread shortcoming. For most grantees, that meant needing to recruit more African American adult males to serve as mentors.
Agencies valued

the relationships built with other grantees and having access to mentoring materials

.
Agency staff felt they and their agencies have grown from their involvement in the grant. One staff member stated how the grant "has just been an incredible experience…it gave us a chance to be creative and learn that the simplest things can be your most successful offerings." Grantees valued the relationships that were built among staff and the opportunities for peer learning. The in-person training held at the beginning of the grant was seen as a particularly impactful experience. As one grantee stated, "I call up other grantees all the time" asking, "what's going on and how do y'all deal with this?" The grantee concluded, "none of that would have been possible without the NRPA initial training."
Grantees also valued having access to ready-made policies/procedures, templates and mentor training materials. These items (which you can view by visiting NRPA's Mentoring Resources) provided a head-start towards establishing and implementing their programs. Of particular use was NRPA's Youth Mentoring Framework, which one grantee called "extremely helpful, easy to follow, and attainable." Grantees have utilized this foundational document in a variety of different ways, such as being a basis for weekly mentoring meetings to being implemented more broadly across existing programs, such as youth sports. One grantee stated how moving forward, they are taking the lessons learned from the grant and applying them to their other youth-facing programming. They said that going into the grant they subconsciously provided mentoring experiences for youth, but the grant has allowed them to "integrate this into the pillars of our programming."
Now it's your turn to join this movement and be part of this work! NRPA is excited to share that we have TWO open funding opportunities available for local park and recreation agencies and their community partners to support mentoring programs! The deadline to apply for these opportunities is March 31, 2023. Please review the applications for more details about each opportunity, including the benefits each grantee will receive, FAQs, and a scoring rubric to help you put together a compelling application! Reach out to mentoring@nrpa.org with any additional questions you have.
Austin Barrett (he/him) is an Evaluation Manager with NRPA.
These awards are supported by Grants #15PJDP-22-GG-03735-MENT and 15PJDP-22-GG-03844-MENT awarded by the Office of Juvenile Justice and Delinquency Prevention, Office of Justice Programs, U.S. Department of Justice. The opinions, findings, and conclusions or recommendations expressed in this material are those of the author(s) and do not necessarily reflect those of the Department of Justice.