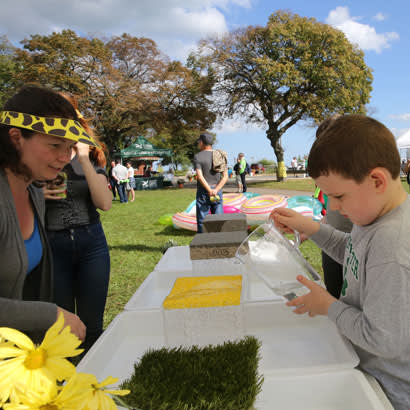 Moakley Park is located in Boston, Massachusetts, in the South Boston neighborhood. This 60-acre park is steps from a local beach and Dorchester Bay, but many Boston residents are completely unaware of this proximity until a large storm event hits and the surrounding streets and park flood.
On a more typical weekend day, the park is busy with athletic teams playing on the various fields, dog-walkers, runners, however, residents have noted "there really isn't much of anything else." For such an incredibly dense urban city, it is surprising that a 60-acre space — surrounded by densely populated neighborhoods and serviced by two nearby transit stops — could be overlooked so readily. This is what the City of Boston Parks and Recreation Department has been grappling with — how can we create great open spaces for the community? And, how can these also serve as climate resilient solutions?
In an effort to reimagine this particular open space, the parks department launched a vision plan at the beginning of 2018. The vision plan is a comprehensive long-term plan that balances outdoor recreational needs and community gathering spaces, with protection against climate change impacts, such as flooding from increased rainfall and sea level rise. The plan provides a vision for programmatic development of the park that ensures a diverse and balanced mix of uses, increases active recreational opportunities, cultural amenities and safety. At the same time, it considers how the design of the park can help increase the neighborhood's resilience against coastal flooding and reduce the impact of rainfall on active recreational fields.
An important element of the vision plan's future success involves the way in which the city empowers residents to become active participants in the co-creation and continued stewardship of Moakley Park. Further, the department wondered, what does diverse community engagement look like and how can this help inform the design of a great place?
Improving Equity in Community Engagement
The Green Stormwater Infrastructure Community Outreach and Education Grant Program through the National Recreation and Park Association, supported by Southwest Airlines, allowed the city of Boston to develop and test an innovative engagement strategy. Working closely with other city departments and state agencies, such as Greenovate and Department of Recreation and Conservation, and our design team, Stoss Landscape Urbanism, the parks and recreation department developed a layered approach to reaching a broad range of community members. Early identification of community leaders provided insight on who should be at the table and how to reach them. Through interviews, workshops, a community advisory group and a park event, the parks department developed a strategy that informed how to make room for diverse activities and social interaction within the park where many people feel welcome.
The design team offered one-on-one interviews with community members to help people feel more open about discussing difficult topics relating to neighborhood change and safety, while also providing a sense of ownership in the design process. These interviews will be shared with our advisory groups to allow people from varying backgrounds and experiences to be heard and listen to others' stories in the hope of breaking down boundaries that have persisted for generations.
Workshops allowed more informal one-on-one conversations to unfold with designers, city staff and other community members with different voices and concerns. Interactive activities offered education on climate impacts on the South Boston neighborhood, while also providing a hands-on design experience to solve flooding impacts and provide community amenities.
The community advisory group is comprised of neighborhood leaders with experience in environment, sports and community organizations. This group provided an opportunity for the city to hear from community members who have lived in the South Boston neighborhood for generations, but also new voices that will use the park in the future. This also provided a platform for a diverse group of individuals to have their voices heard, but also listen to others with varied interests and concerns.
The DISCOVER Moakley event started from a simple idea: What if we made community engagement fun? The free event offered a day of food, beach games, skateboarding, live music and an outdoor movie. It also offered another opportunity for community engagement to discuss neighborhood flood protection solutions and the importance of green infrastructure. By providing examples of what green infrastructure looks like, community members weighed in on their preferences and provided a platform to discuss how this critical element could be interwoven to become a significant community asset.
DISCOVERING Moakley
So how did we, as the city, reDISCOVER Moakley? An extensive, multi-layered community engagement process provided an opportunity to elevate often unheard voices that brought expertise and passion to the vision plan process. The interviews, workshops and the event provided some incredible insight, which would have been lost in a typical community meeting format. By offering an event on the weekend in the park, not only did the community see a lot ofother residents activating the park in new and interesting ways, they also participated. This event drew a new sector of the community that had previously been under represented in the vision plan process, including youth.
This also provided the city an opportunity to "test" ideas, such as green infrastructure and road closure. Day Blvd embraces the eastside of the park nearest the beach. This roadway currently exhibits occasional flooding, which will only increase with time. As part of the event, the roadway was transformed through a temporary greening of a public amenity, while also encouraging sociable spaces through family activities, art and a community lounge. This time period significantly changed the dynamic of the event. Instead of the park feeling like a traffic island, it provided a safe connection to the beach while also exploring green infrastructure practices.
Next Steps
As the city of Boston looks to implement nature-based solutions across the Boston waterfront, lessons from the Moakley engagement process can provide valuable insights on how to overcome inequity in the community engagement process.
As a local government, how do we move forward in the creation of more equitable parks formed from inclusive engagement processes? As a first step, we must continue sharing and listening to ideas while also measuring and documenting successes and failures.
Allison Perlman is the Project Manager for Boston Parks and Recreation Department.