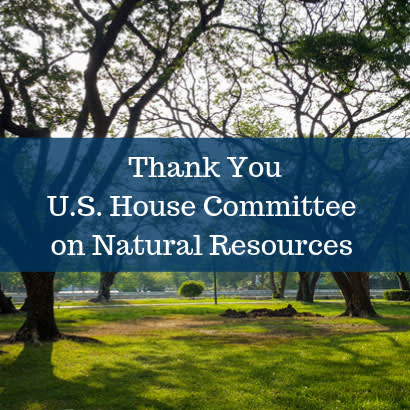 Yesterday was a historic step as the U.S. House Committee on Natural Resources passed legislation that would permanently reauthorize the Land and Water Conversation Fund, while ensuring the stateside program would receive at least 40 percent of the total funding in the program. These fulfill two of NRPA's goals for reauthorization and, if implemented into law, would be a major success for local park advocates. The legislation is an agreement between House Natural Resources Committee Chairman Rob Bishop and Ranking Member Raul Grijalva. We appreciate their leadership and action on this important topic.
This is only one step, though. Now the full House of Representatives needs to take up and consider the legislation, and the House and Senate need to work on a compromise between the two chambers. So, this isn't the time to take our foot off the gas. Your public policy team will be advocating that this compromise is adopted into law, but we need your help. Now is a great time to reach out to your elected officials to share with them the importance of LWCF and urge passage of the Bishop/Grijalva compromise legislation.
As far as next steps, the Chairman and Ranking Member of the House and Senate Committees of jurisdiction will continue discussions on a way forward for LWCF reauthorization. It is our hope that the Senate will adopt the House compromise legislation — or something that looks similar — that includes the 40 percent stateside floor. If differing versions pass the House and Senate, both chambers will designate members to serve on a conference committee. This committee will be tasked with rectifying the differences between the two chambers' bills. While the path forward isn't crystal clear, this has moved the ball down the field considerably. This bipartisan compromise is a real win for local parks.
Kyle Simpson is NRPA's Senior Government Affairs Manager.