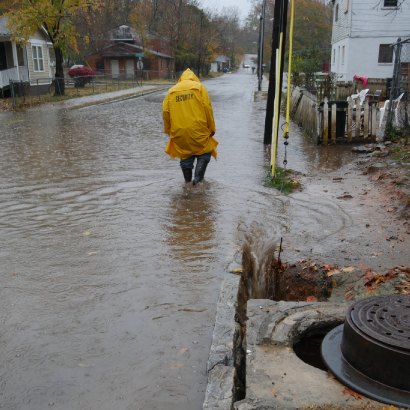 Photo Credit: Erik Fyfe of Chattahoochee Riverkeeper
Imagine living in a neighborhood without access to safe greenspace to explore nature, gather with your family or watch your kids run around. Unfortunately, too many communities around the country struggle with this issue. Often these same communities are experiencing serious environmental challenges in the form of severe flooding, degraded air and water quality and urban heat island effects due to aging infrastructure and a lack of nearby natural systems.
With a changing climate and increased severe weather events across the country, it is essential that communities come together to prepare for these events. Green stormwater infrastructure offers a hopeful solution to both environmental and social challenges when implemented in a thoughtful and meaningful way. Installing these projects in publicly owned parks can offer a multitude of benefits beyond climate resiliency, especially in underserved communities. These projects provide healthy greenspace for recreation, present an opportunity for education and employment, and promote a sense of community pride and stewardship.
At the same time, green Infrastructure design plans often fail to incorporate community input. While addressing environmental challenges is critical, parks that are designed to serve the surrounding residents and benefit the environment are ultimately more successful and sustainable.
As part of the Great Urban Parks Campaign, NRPA, in partnership with Southwest Airlines, is working to ensure every community has a voice in green stormwater infrastructure projects so that multiple benefits of these projects may be realized. In May 2017, we awarded three communities a grant to identify best practices and innovative strategies that empower the community to be active drivers of a green infrastructure project that best suits the needs of the community, while also benefiting the local environment. Our goal is to share their stories and inspire others to easily implement community-driven green stormwater infrastructure projects across the country.
We are proud to announce the following three communities we'll be working with NRPA to share their stories. Stay tuned for updates from their projects!
Chelsea, Massachusetts: GreenRoots will be implementing a community-based effort to restore the water quality and reduce the flood risk to the surrounding communities of Mill Creek by installing stormwater tree trenches and bio retention areas at the Mill Creek Natural Playground. The project will help restore the water's edge into a more open and accessible site that supports the growth of appropriate flora coupled with active recreation.


Covington, Kentucky: The City of Covington plans to hire an undergraduate science education fellow who will develop curriculum to teach and mentor local high school students about water quality and local stormwater issues. Using this education, the students will host a final workshop for the community to determine the design and location of a green infrastructure project within the Licking River Greenway.


Gary, Indiana: The Alliance for the Great Lakes will be working with the local community to develop scalable processes for site selection, design and maintenance for six green stormwater infrastructure pocket parks.
Stay tuned for updates and best practices learned from these communities as they work to engage their communities in green stormwater infrastructure projects.
Jennifer Cox is NRPA's Conservation Program Specialist.