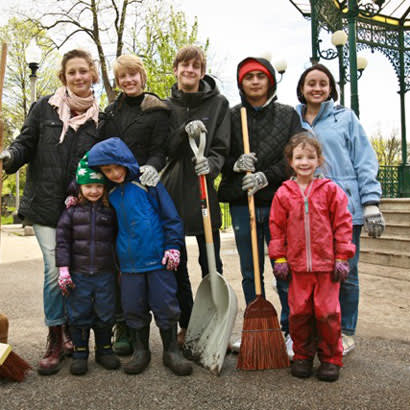 Here is a startling statistic you may not know: on average, children spend as much as 90 percent of their day indoors. Here are two more: teens average as much as nine hours of their day on entertainment media, with tweens averaging nearly six hours daily. So it would seem that unplugging from devices would help drive more children outdoors, but the tech industry's reliance on persuasive design can make it very hard for children (and yes, let's admit it, adults) to do so.
These facts make Screen-Free Week so relevant these days. Screen-Free Week, which next takes place April 29-May 5, 2019, is an annual event that encourages families, schools and communities to trade digital entertainment for a week's worth of offline fun. This can include reading, crafting, bowling, swimming, outdoor recreation, nature exploration or gardening. We've long known that celebrating Screen-Free Week with others enhances the fun for everyone, and this is why local park and recreation departments — which are skilled at bringing people of all ages together to enjoy recreation and the outdoors — make exceptional Screen-Free Week partners.
This fall is the perfect time for local parks, recreation departments and nature centers to plan ahead for Screen-Free Week 2019. Since many schools already celebrate Screen-Free Week with an array of on- and off-campus activities, now is the time to reach out to local schools (preschool through high school) to invite them to visit your park or center during Screen-Free Week. They can enjoy your regular offerings or, if doable, specially designed activities tailored to the school's interests and needs. Activities might include trail hikes, nature crafts, park clean-up, garden pollinator programs, outdoor yoga, beehive programs — whatever you can dream up! You can also offer to provide a park ranger or naturalist to visit the school for on-campus programming, including school gardening projects or playground nature walks. So much is possible when devices are put to rest.
Another approach is to design special Screen-Free Week programs for children and their families. Daytime programming is perfect for younger children, whether it's tyke hikes, live animal encounters or outdoor story time at the nature center. Evening, night and especially weekend programs are ideal for all members of the family.
There is, of course, an important purpose to all of this organizing effort. The hope is that Screen-Free Week will not only inspire children and families to discover new passions (say, stargazing or birding) that may ignite a lifelong love of the outdoors, but will also introduce them to parks and nature centers that were previously unfamiliar to them.
To be sure, there's always room for indoor fun during Screen-Free Week. And that's where recreation centers figure in. For example, during Screen-Free Week 2018, the Bob L. Burger Recreation Center in Lafayette, Colorado, offered free recreation center passes to Screen-Free Week participants. This kind of open invitation helped foster community building as residents explored the recreation center's offerings — together — during one screen-free week of the year. While Screen-Free Week is the perfect opportunity to steer children outdoors, it's also a good time to get kids, schools and families moving and learning and reading.
Even if you choose not to organize any events, you can still add Screen-Free Week to your spring social media calendar. In the weeks leading up to Screen-Free Week, remind your friends and followers that a visit to your park, nature center or community garden is a winning activity during Screen-Free Week — as well as year-round!
Screen-Free Week is a project of the nonprofit Campaign for a Commercial-Free Childhood, which is available throughout the year to provide ideas to any organization seeking to celebrate Screen-Free Week. While Screen-Free Week is mainly about fun, it also conveys such timeless messages as the value of powering off on a daily basis to savor some meaningful time, whether outdoors or with others.
Let us know how you plan to celebrate Screen-Free Week 2019!
Rinny Yourman is Screen-Free Week Outreach Coordinator at the Campaign for a Commercial-Free Childhood.