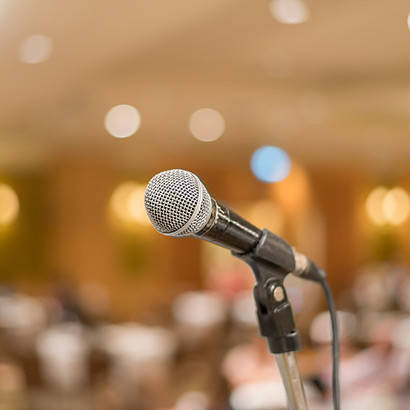 The people who know me best will tell you that I am in introvert at heart. Oh, sure, in a business setting I don't mind sharing my thoughts or taking the lead on a project. But in social settings, I like to hang on the edge and watch the world go by or chat with someone one-on-one. So when I found myself sitting at my first National Aquatic Conference thinking that I might have a story to tell, it was pushing me out of my comfort zone. I kept thinking about all of the things I wished I'd known when I started a culture change in my division, and I thought perhaps I could help someone else by sharing my journey. Before the flight home had landed, I had a solid outline of my first presentation.
Speaking has offered me an opportunity to attend conferences that might otherwise not have received budget approval, and it has given me an opportunity to meet some amazing people who have become mentors and lifelong friends. What I didn't anticipate was how the process of writing a session proposal, preparing to present and connecting with my peers would truly impact me as a professional.
Speaking at conferences has made me a better trainer for my team.I thought I had new hire orientation and in-service down to a science, but when I started to look at training through the lens of "needs assessment" and "learning objectives," I began better evaluating the training content and building the true objectives of my trainings in greater detail.


It's made me a better manager. Once I wrote my first session proposal, I found myself evaluating my successes and challenges through a new lens. While I had always tried to apply lessons learned, I was able to translate those better for my team. More importantly, I began working more closely with my team to help them translate their own lessons to share with their peers and subordinates.


It's allowed me to embrace my Type-A personality — I can be as organized and color-coded as my heart desires, but it has also taught me to be more flexible . You see, I was always able to make last-minute adjustments for programs or events, but I'm not sure it was very pleasant for the people with whom I was working. Just like in our work life, things go wrong when you present. You can't connect to the internet, the remote won't work to change the slides or all of your animation disappears five minutes before your presentation. When you're standing in front of a room full of peers, you've got to make it work! Learning how to take a deep breath and go with the flow has helped me grow exponentially.

Lastly, it has prepared me for career advancement. Having the experience of speaking to a group of other professionals has made interviews and presenting to City Council easier. Whether it's preparing myself for an interview, creating a presentation for planning and zoning or making a proposal to City Council, I have confidence in both my presentation and storytelling skills and I have feedback from my peers to help make me a better presenter. Let's be honest – having "national conference speaker" on your resume certainly stands out and earns you some political capital!
Choosing to take a chance and submit that first proposal all those years ago has been one of the most rewarding things I've done both professionally and personally. I encourage all of you to make the investment in yourself and submit your own proposal, share your own story and see where it leads. I promise, while it might be a little scary, it'll be amazingly rewarding!
Kirsten Barnes is the Director of Five Star Recreation
Feeling inspired? Submit your Speed Session proposals for the 2017 NRPA Annual Conference in New Orleans.