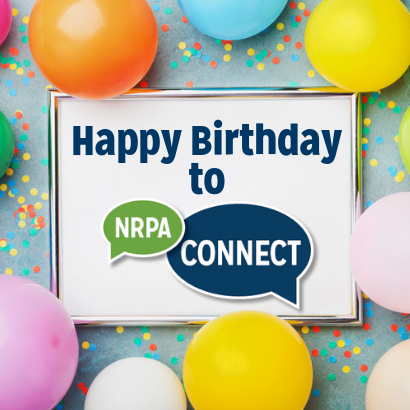 NRPA Connect is turning five this month! There are a lot of reasons to celebrate, including the 20,000+ discussions among members, 5,000+ resources shared, and countless professional and personal connections that have been made because of Connect. There are also new features that will help make it easier and more fun to network with fellow park and recreation professionals around the country. Check out the five new features to try today:
1.) My Favorite Resources — You can now save your favorite resources you find on Connect! When you want to save a resource (example RFP, job description, brochure design, etc.), you can click on the blue 'Action' button and then 'Add to Favorites.' It will save the resource, so you can always refer back. You can find your favorite resources under the 'Learn' tab on the green bar on top of every page. Saved resources can be removed at any time.
2.) Real-time Notifications and Following Content — Stay informed of new replies to your discussion thread or comments. Now, members who participate in a discussion thread or comments are notified via email when there are any new replies so that they don't miss out on the conversation. These real-time participation emails are separate from your community subscription.
3.) @Mentions — The @Mention feature allows community members to mention other users in various locations on NRPA Connect. @Mentions are a great way to invite specific individuals to join a conversation, provide recognition and call attention to specific resources.
4.) Inline replies — We want to make it easier for you to reply to threads online. Therefore, we've allowed users to quickly reply to a post inline. Users can simply select "reply inline" and type in their reply within context of the conversation. If members want to spend more time crafting a reply, you can select the more button then "reply to discussion" option and will be brought to another page with more advanced editing features.
5.) Consolidate Your Digest — Are you a member of multiple communities on NRPA Connect? Instead of receiving multiple daily digests, you can consolidate all your community digests into one email. Did you know you can also receive your daily digest once a week? This option can be found under My Profile > My Account > Community Notifications.
These new features aren't the only way we will be celebrating, so be sure to login to NRPA Connect today to join in all the festivities on our birthday thread!
Hayley Herzing is NRPA's Senior Manager of Membership.