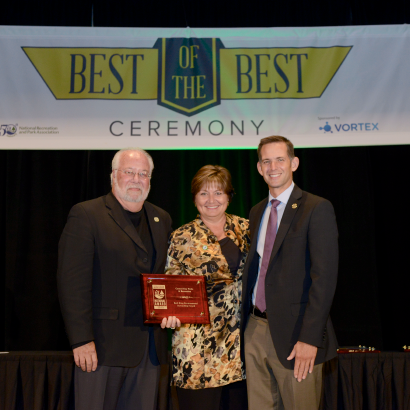 If you're like me, you're extremely proud of your agency and its many contributions to your community. We are fortunate to see every day how Parks Make Life Better! While your residents and elected officials may cherish the parks and programs you provide, do they really know how valuable your agency is to them or the outstanding work you do? That's where the National Awards program can help!
When I decided to pursue a career in parks and recreation, it was to make my community a better place to live, work, and play, not to win awards. While that is still true today, I have witnessed firsthand how receiving a national award goes a long way in validating your agency.
Everyone likes being part of a winning team, including employees at all levels of your agency. Telling your team what a great job they're doing is important, but it has a lot more meaning when that recognition comes from others, especially from a national organization like NRPA. Without a doubt, receiving national recognition fosters a sense of pride within your organization and community.
Looking to enhance the confidence your elected officials and community leaders have in your agency? Receiving a national award certainly doesn't hurt your cause. Mayors, city councilors and park board members like touting to the public their role in creating a great park system. (And even if a community leader takes more credit than deserved, wouldn't you rather have them happy with what you're doing as opposed to distancing themselves from your agency?) Receiving an effective "seal of approval" from a national organization gives them a boasting point.
Carmel Clay celebrates their 2014 Gold Medal Award.
Becoming a national award winner can also have added benefits with your elected officials. In 2015, when my agency was up for the Barb King Environmental Stewardship Award after winning the Gold Medal Award the previous year, our city council was planning to schedule budget hearings right in the middle of the NRPA Annual Conference, when awards are presented. Would your city council president make sure the meeting was moved to avoid your conference? Mine did.
As with any award program, your agency needs to be doing really great work to win a national award. That's how it should be to be named one of the Best of the Best. That being said, I have talked to many inspiring professionals who have shared the great things they are doing at their agencies, visited many communities with outstanding parks and programs, and seen work truly deserving of accolades. Unfortunately, too many of these great agencies don't receive the recognition they deserve, or the benefits that come with winning a national award, simply because they never applied.
Embrace the power of national awards!
Michael W. Klitzing, CPRE, is the Chief Operating Officer of Carmel Clay Parks & Recreation, winner of the 2014 Gold Medal Award and 2015 Barb King Environmental Stewardship Award.
Editor's Note: This blog was orginially published on February 26, 2016. It was updated on February 2, 2017.