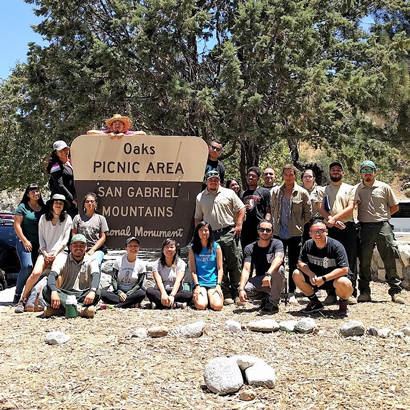 Following President Trump's recent executive order calling for a review of national monuments designated since 1996, the Department of the Interior has released a list of national monuments that could be scaled back or even eliminated. While this entire process stands on shaky legal ground, the list reveals that six monuments in California are targeted: the San Gabriel Mountains, Sand to Snow, Mojave Trails, Berryessa Snow Mountain, Giant Sequoia and Carrizo Plain national monuments.
This president is using false rhetoric, attempting to drive a wedge between communities across the country. Nowhere is this more apparent than here in the greater Los Angeles area and the foothills of the beautiful San Gabriel Mountains. We heard complaints of "overreach" and "land grabs by the federal government" just before the designation of the San Gabriel Mountains National Monument. But the truth is, the San Gabriel Mountains Forever coalition worked for nearly a decade to earn local support for the national monument. Following that designation, the official Community Collaborative worked with the U.S. Forest Service for three years developing the monument's management plan.
"We were able to come up with a document that we can all support, which is the first time this has been done when a national monument has been designated to serve the recreational needs of such a large, urban population," said Liz Reilly, City of Duarte councilwoman, and a member of the San Gabriel Valley Council of Governments.
From the beginning, former President Barack Obama listened to the local community, recognizing the need for a place where everyone — especially children of color living in low-income communities — could experience nature and learn about the rivers, streams and forests that provide us with clean air and water. It was a win for the environment and social justice when he dedicated the San Gabriel Mountains National Monument in 2014.
Now, President Trump has ordered the secretary of the interior to go back more than 20 years in search of ways to cut, shrink or remove protections for our national monuments. He has denigrated the work that brought diverse communities together in support of the San Gabriel Mountains National Monument, along with many others across the nation. This review is politically motivated and an affront to the people of the nation, who have shown overwhelming support for parks, refuges and national monuments.
Diverse communities were the force behind many of the monument designations targeted by the executive order, from those in urban neighborhoods seeking access to nature, to others working to protect their cultural identity. The recent designation of Mojave Trails, Sand to Snow and Castle Mountains national monuments in our Southern California desert helped protect and celebrate Native American history, values and culture. The first target of the president's monument review is likely to be Bears Ears in Utah, where 30 Native American tribes came together to support a monument designation celebrating cultural sites and ancient artifacts and to protect them from vandalism and looting.
This attack on our national monuments puts oil drilling and mining interests, big business and developers ahead of the needs of local communities. We, the people, must raise our voices to defend the health of our neighborhoods and the future of our children. We must insist on more parks and greater access to healthy outdoor activity, along with protection for all our public lands and waters — including national monuments.
A public comment period on this national monument review is already underway. With your help, we can demonstrate the overwhelming public support for the San Gabriel Mountains National Monument and all national monuments. Comments may be submitted online at www.regulations.gov, then searching "DOI-2017-0002," or by mail to Monument Review, MS-1530, U.S. Department of the Interior, 1849 C Street NW, Washington, DC 20240.
Now is the time to speak up for our national monuments!
Robert García is Founding Director and Counsel of The City Project, and a member of San Gabriel Mountains Forever and the Community Collaborative.
Daniel Rossman is the Senior Regional Representative for The Wilderness Society based in Los Angeles, and a member of San Gabriel Mountains Forever and the Community Collaborative.
Photo Credits:
The San Gabriel Mountains Forever Academy
Bears Ears National Monument: Mason Cummings, The Wilderness Society