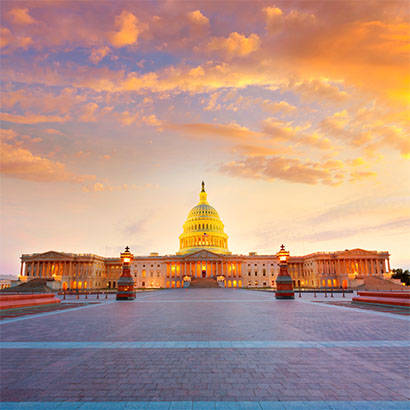 Congress Keeps the Government Open
With just two days left before a potential government shutdown, both the House and Senate approved a short-term spending package on September 28, known as a Continuing Resolution (CR), that will keep the federal government running on autopilot through December 9, 2016. After months of high stakes negotiations, partisan bickering and legislative gridlock, President Obama has finally signed the comprehensive package into law that will provide funding for a number of public health priorities supported by NRPA. Specifically, the CR:
Guarantees emergency funding for the Flint, Michigan water crisis in the water infrastructure bill, which is scheduled to receive a vote during the "lame duck" session of Congress after the November elections.
Provides $1.1 billion to find a cure for the Zika virus. Due to the millions of acres of open land that park and recreation agencies manage across the nation, NRPA was extremely proud to see President Obama sign this bill. It will help states and municipalities manage mosquito populations and keep expectant women across the nation safe.
Provides $37 million to help states combat the opioid epidemic that has swept the nation in recent months. This funding is an important down payment on America's efforts to help address the opioid addiction crisis, which takes 129 lives everyday due to drug overdoses, and help states and cities save lives.
Provides $500 million in relief for flood-ravaged portions of Louisiana, Maryland and other states. This money will go a long way towards helping these states, which recently experienced historic floods, to rebuild and get back on their feet.
Potential Delay of Overtime Rule Changes
In recent months, the NRPA Public Policy team has been keeping an eye on the progress of the Obama Administration's changes to overtime regulations. The changes to the rule, which increase the pay threshold ($47,476) under which certain employees are guaranteed overtime pay if they work more than 40 hours per week, are scheduled to go into effect December 1, 2016. The changes to the rule, which is estimated to impact roughly 4 million workers, and cost nearly $1.2 billion each year have generated interest from stakeholders across the country including business, local governments, and nonprofit agencies alike.
The House recently passed legislation to delay the implementation of the rule by six months (until June 1, 2017). Although the bill hasn't passed the Senate yet, we'll continue to monitor this issue and keep you updated.
Public Policy Sessions at the NRPA Annual Conference
Join the Public Policy team at NRPA's Annual Conference next week in St. Louis to hear up-to-the-minute analysis of policy and political matters impacting NRPA's three pillars: Conservation, Health and Wellness, and Social Equity.
Federal Policy and Legislation Impacting Conservation, Health and Wellness, and Social Equity
Thursday, October 6, 1:00 - 2:15 p.m.
Room 240
Next, we know how it is — with election season in full swing, you're likely feeling like getting in on the political action! Well, your NRPA Public Policy team is here to show you how. You can make a difference for parks and recreation on Capitol Hill from your home turf by becoming a Park Champion.
Bringing Capitol Hill to a Park Near You: Park Champions
Friday, October 7, 3:00 - 4:15 p.m.
Room 267
Park Champion of the Year
After an incredible year of events, the NRPA Public Policy committee has selected the 2016 Park Champion of the Year recipient. Congratulations to Tracy Willette, Bangor Parks and Recreation, and Deb Smith, Maine Recreation and Park Association! Tracy and Deb coordinated an amazing Park Champion event by having Senator Susan Collins, Congressman Bruce Poliquin, and staff from Senator Angus King speak at the Senior Little League World Series opening ceremony in Bangor, ME. Tracy and Deb will be recognized at NRPA's Annual Conference in St. Louis during the Best of the Best awards ceremony on Thursday, October 6, at 5:30 p.m. They will also be flying out to D.C. in spring of 2017 to advocate for parks and recreation on Capitol Hill.
Do you have an exciting fall celebration coming up? Invite your members of Congress and make it a Park Champion event! Congress is in recess for most of October leading up to the 2016 general election, so they'll be in their home districts and states looking for opportunities to connect with constituents. Any Park Champion events held from September 2016 - August 2017 will qualify you for the 2017 Park Champion of the Year Award!
Dave Tyahla is NRPA's Senior Government Affairs Manager.