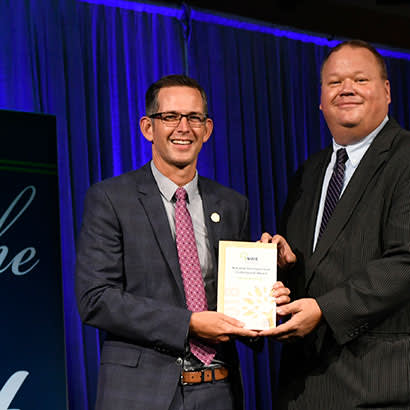 Anyone who has participated in sports or rooted for your favorite team has experienced the excitement of winning a big game. We can easily recite the last time our team was crowned a champion — for me, the Indianapolis Colts in 2007 — and recall the exhilaration we felt as the clock counted down to zero. As park and recreation professionals, the National Recreation and Park Association (NRPA) provides each of us the same opportunity to be recognized as the very Best of the Best in what we do.
When I decided to pursue a career in parks and recreation, it was to make my community a better place to live, work and play, not to win awards. While that is still true today, I have witnessed firsthand how receiving national awards can go a long way in both validating your agency and advancing your career.
If you're like me, you're extremely proud of your agency and the many contributions you make to your community. We are fortunate to see every day the impact we make in the lives of people. While your residents and elected officials may cherish the parks and programs you provide, do they really know how valuable your agency is to them or the outstanding work you do? That's where the NRPA Awards program can help!
Since 2014, my department has won the National Gold Medal and two NRPA awards. Everyone likes being part of a winning team, including employees at all levels of your agency. Telling your team what a great job they're doing is important, but it has a lot more meaning when that recognition comes from others, especially from a national association like NRPA. Without a doubt, receiving national recognition fosters a sense of pride within your organization and helps build trust and credibility with your community leaders. Case in point, we will soon be receiving close to $20 million in funding to make upgrades in seven parks. While this would not be possible without the relationships we have nurtured with elected officials, being a nationally recognized agency certainly did not hurt our cause!
Last year I was honored to receive the National Distinguished Professional Award, one of NRPA's highest recognitions for a living professional (for the record, I'm not interested in getting an award of the non-living variety anytime soon!). At the same time, the director of my agency was approaching his retirement. While I was already well-positioned to become a director, being named the top professional in the country certainly made it easy for my Park Board and elected officials to forego a national search when they named me as their new director.
As with any award program, you and your agency need to be doing really great work to win a national award. That's how it should be to be recognized as the Best of the Best. That being said, I have talked to many inspiring professionals who have shared the great things they are doing at their agencies, visited many communities with outstanding parks and programs, and seen work truly deserving of accolades. Unfortunately, too many of these great accomplishments don't receive the recognition they deserve, or the benefits that come with winning a national award, simply because they never applied.
Embrace the power and be a champion! Apply for one of NRPA's Innovation Awards, Spotlight Awards or the Gold Medal by March 29, 2019.
Michael W. Klitzing, CPRE, was the 2018 recipient of the National Distinguished Professional Award and was recently named the new Director of Carmel Clay Parks & Recreation, winner of the 2014 Gold Medal Award, 2015 NRPA Barb King Environmental Stewardship Award, and 2016 NRPA Excellence in Inclusion Award.