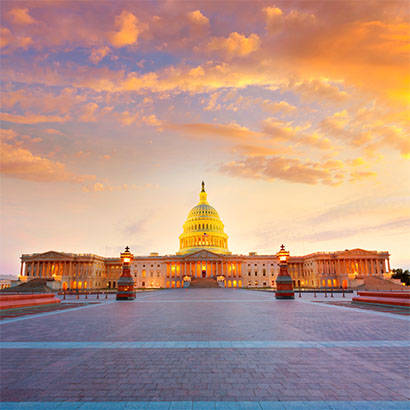 Members of Congress returned from the August recess this week and immediately got to work on several important bills including:
An effort to fund a response to the Zika crisis.
A broad energy reform package which includes permanent Land and Water Conservation Fund (LWCF) reauthorization.
Legislation to keep the federal government funded, and operating, beyond September 30 — the end of Uncle Sam's fiscal year.
Funding for FY2017
With legislators in both the House of Representatives and the Senate looking to return to the campaign trail as soon as possible ahead of the November elections, Congressional leaders in both chambers are searching for common ground in order to quickly pass a "Continuing Resolution" (CR) that will put federal spending on autopilot and keep the government running beyond September 30.
Although details of the spending package change by the day on Capitol Hill, the general opinion among leadership in both the House of Representatives and the Senate seems to have solidified on a short-term CR that will fund the government into early or mid-December. It would give lawmakers about three weeks after the elections to work out a final, comprehensive spending package (omnibus) for FY2017 and then approve it during the anticipated post-election "lame-duck" legislative session.
Obviously, neither political party would welcome seeing a funding showdown result in a "government shutdown" so close to an important national election. Therefore, passage of a short-term CR into December will provide much-needed certainty for park and recreation agencies, businesses in your community and the broader economy. However, it will also bring with it the real risk of a similar spending showdown during the post-election "lame-duck" session — just in time for the holiday season.
Zika
One of the other factors motivating Congress to come to an agreement on a spending package is the growing concern over the Zika virus.
The CDC confirmed a number of new mosquito-transmitted infections of Zika during the summer months while Congress was out of session. Due to strong public outcry, advocacy by NRPA members across the country, and pressing media coverage about the dangers of Zika and Congress' inaction on the issue over the summer months, the U.S. Senate planned an immediate vote upon Congress' return to Washington.
Sadly, the U.S. Senate failed for a third time to fund a $1.1 billion response to Zika earlier this week. Congress' inability to provide funding for community health centers, Zika prevention kits, and mosquito surveillance and abatement in local communities looms large in the November elections. As a result, many members of Congress are intent on including Zika funding in the continuing resolution in hopes that it will be the bipartisan glue that brings together Republicans and Democrats to act in the nation's best interests.
The NRPA Public Policy team is working with a broad coalition of public health experts, pediatricians, and child welfare groups to ensure that Zika remains a priority and that Congress includes funding in the upcoming CR to stop Zika's spread.
Energy Reform and LWCF
Finally, the House and Senate are currently in formal dialogue (known as a Conference Committee) in hopes of negotiating a broad energy reform package prior to adjourning for the year. The Senate's version — which was approved by an overwhelming 85 to 12 bipartisan majority — includes permanent reauthorization of the LWCF.
Further, the measure would guarantee a 40 percent minimum annual funding allocation for "programs which support the states" which would include the State Assistance Program. While not perfect, this change does represent significant progress over the status-quo.
The overall outlook for passage of energy legislation is unclear as major differences remain between the measures approved by the House and Senate which must be worked out in Conference. This is only exacerbated by the very limited amount of time left to get a deal done this year.
The Public Policy Team will keep you up to date on events in Washington through social media and NRPA's communication channels. Please visit our website to learn more and sign up to be a Park Champion.
Dave Tyahla is NRPA's Senior Government Affairs Manager.