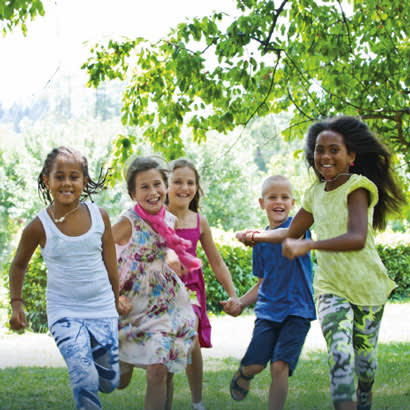 America's activity deficit is contributing to a national health crisis affecting millions across the country. With 80 percent of U.S. residents living in urban areas, neighborhood parks offer a unique opportunity to be a part of the solution. Neighborhood parks that are well-designed, programmed and marketed can help residents get off the bench — or the couch — and get active.
To help increase active behaviors in parks — specifically for teen girls and seniors, two underrepresented populations in parks — City Parks Alliance has published Active Parks, Healthy Cities: Recommendations from the National Study of Neighborhood Parks.
Over a two-year period, trained data collectors observed park use in 174 parks in 25 cities identifying to what degree neighborhood parks in cities encourage people to be physically active. Research findings from the first national longitudinal study of neighborhood parks have been published in academic journals.
Active Parks, Healthy Cities distills the findings into four major recommendation categories: Programming, Design, Marketing and Outreach, and Measuring Park Use. The report curates multiple case studies for each of the four major findings from cities of different sizes and geographies for park and recreation professionals, health organizations, advocacy groups and others to replicate.
Key Findings and Recommendations:
Programming — Nothing increases park use and physical activity as much as programming that provides supervised activities to help people make use of the space. Each additional supervised activity led to a 48 percent increase in park use and a 37 percent increase in physical activity.
Design — Park and play space design influences how much a park is used and how physically active park users will be. Parks with walking loops were found to have 80 percent more users, over twice as many seniors, and 90 percent higher levels of moderate-to-vigorous physical activity. With playgrounds, for every element added, use (and activity level) increases by 50 percent.
Marketing and Outreach — On-site marketing, such as banners, posters and signs, are proven effective at increasing park use and physical activity, and many cities are effectively using social media and online tools to connect people with parks. The study found that park departments deploying these kinds of publicity experienced a 62 percent increase in users and a 63 percent increase in physical activity.
Measuring Park Use — Overall, most neighborhood parks are underused, a fact that only emerges with measurement. Parks that are well-used are much more likely to have a vocal constituency to support them; and park agencies that measure park use are better positioned to justify public spending to maintain and enhance them.
Active Parks, Healthy Cities: Recommendations from the National Study of Neighborhood Parks and the case studies in the report are featured here with links to the programs for more information. Help us grow this important resource for elected officials, park leaders, and community advocates by sharing your park activation case studies.
The RAND Corporation and City Parks Alliance, with help from The Trust for Public Land, led the National Study of Neighborhood Parks with support from the National Heart, Lung and Blood Institute of the National Institutes of Health.
Catherine Nagel is the Executive Director of City Parks Alliance.