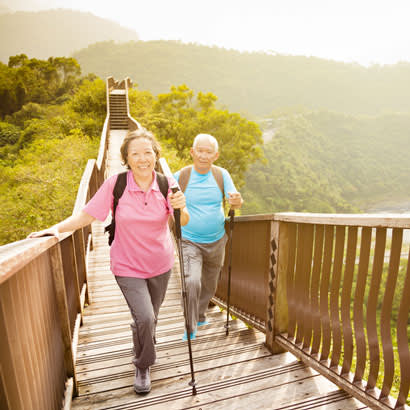 On May 30, 2018, over 100,000 older adults are expected to participate in the 25th annual National Senior Health & Fitness Day. Created to inform and promote healthy lifestyles amongst the older population, the day is a great opportunity to encourage seniors- and local communities at large- to take advantage of the natural splendor of the outdoors. Out of a truly unlimited series of possibilities, consider trying one of these fun, inexpensive activities to get up and moving.
1. Go for a Hike
One of the most common ways to enjoy local parks and trails, hiking has been shown to improve not just overall physical health, but foster a strong mind-body connection as well. Whether it's uphill or down, 30 minutes or three hours, taking the day to go on a hike is one of the best things to do for the body on a daily basis. Try making it a group outing with friends or family- and remember to start slow, and pack plenty of snacks if the hike is going to be a long one.
2. Swim Some Laps
Community pools are a favorite stop for a lot of those who take advantage of the parks and recreation system. A great form of aerobic exercise, swimming is also more forgiving on muscles and joints than other forms of exercise, meaning that it's a perfect activity for those suffering any pain or mobility issues that would otherwise prevent them from getting mobile. If swimming laps isn't for you, many community pools also offer aquatic exercise classes that are as fun and challenging as the ones on land.
3. Start an Outdoor Fitness Group
Strength training, yoga, and cardio all are fitness classes typically taken in an indoor gym environment. What's stopping them from being done outdoors? Nothing, as it turns out. Exercising outdoors is made simpler by the unlimited space, and lack of crowded machines or stale atmosphere. It's not necessary to pay to join an outdoor class, either- using a health and fitness app to help guide a specific workout, or recruiting a fitness-oriented friend works just as well, and costs much less. Try having the group do something fun and new- ultimately, it's about having a good time and being social while also getting moving.
4. Volunteer
According to the Corporation for National and Community Service, the value of senior volunteers is estimated to be around $75 billion. Using their skills, knowledge, time and resources, older volunteers have contributed greatly to projects that otherwise would have never realized their full potential. In addition to being an incredibly positive effort, it can also be a way for seniors to become mobile while performing their volunteer duties. It doesn't necessarily have to be for their local recreation department, although volunteering for park cleanups and community garden initiatives are certainly options that support public parks and conservation efforts while remaining active.
Getting active for National Senior Health & Fitness Day goes beyond just an observance day on the calendar. It's an important initiative to not only encourage the population it specifically targets to live healthier, happier lives, but also is a great opportunity for the older generation to model healthy behaviors for the young that will serve them throughout their lives.
Nicole Kennedy is a staff writer for the Aaptiv Magazine.