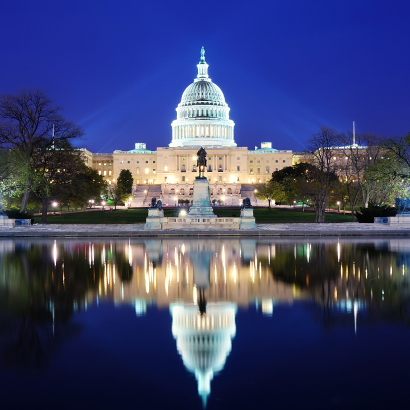 We are less than one full month into the Trump Administration and the new Congress has just started work on their ambitious agenda.
First, the White House. While all Cabinet-level appointments are important, some agencies play a much more direct policy-making role which impacts the parks and recreation industry. Here's the latest on the individuals who have been nominated to serve in key roles in the new Administration. We include an example of priority policy issues which will be part of their jurisdiction.
NOTE: Those who have, to date, been CONFIRMED by the Senate are listed in "BOLD AND ALL CAPS":
Sonny Perdue – Secretary of Agriculture

Issue: Child Nutrition and Out-of-School Meals

BETSY DeVOS – Secretary of Education

Issue: Environmental Education

Rick Perry – Secretary of Energy

Issue: Environment and Climate Policy (along with the EPA)

Scott Pruitt – Administrator, Environmental Protection Agency (EPA)

Issue: Environment and Climate Policy (along with Dept. of Energy)

TOM PRICE – Secretary of Health and Human Services (HHS)

Issue: Healthcare Policy (Affordable Care Act and the Prevention Fund)

Ryan Zinke – Secretary of the Interior

Issue: Conservation and Outdoor Recreation (LWCF and "Every Kid in a Park")

ELAINE CHAO – Secretary of Transportation

Issue: Active Transportation (Bike and Pedestrian Trails and Safe Routes to Schools & Parks
The Senate is scheduled to vote on the remaining nominations this week and into March. The Public Policy Team will continue to provide updates via social media as well as the Open Space Blog as nominees are confirmed.
Next, Congress. Both the House and Senate have undertaken initial steps to repeal and replace the Affordable Care Act (also referred to as "Obamacare"). This process is expected to last well into the year.
Additionally, members from both chambers (and political parties) have initiated discussions on how they might take up another of President Trump's key priorities, an ambitious, ten-year and $1 trillion (with a "t") infrastructure improvement program.
From NRPA's perspective, we are watching closely how the Administration and Congress are defining infrastructure. We want to ensure that investments are being made in our nation's walking, biking and active transportation networks. We also want local parks and mixed-use developments to be recognized as being critical to the infrastructure and the economic and environmental well-being of communities, both large and small, in every corner of America.
Further, we agree with Interior Secretary-nominee Zinke who recently suggested including the substantial maintenance backlog on federal lands – primarily involving things like trails and access – as a as part of the infrastructure repair funding.
Finally, while it may be early days for the new Congress, they do have face two important upcoming deadlines which they must address or risk major political and economic disruption. First, on March 15, Congress must act to raise the federal "debt limit" or face a default on its existing spending and legal obligations. Next, the federal budget for FY2017 is only authorized until April 28 – meaning Congress must also approve a spending budget to keep the federal government operating for the rest of the fiscal year (ending September 30), or risk a government shutdown.
It's unclear whether there will be any political fireworks involving action on either of these key federal funding issues, but they are expected to test the resolve of both the new Administration and newly emboldened conservative members in Congress with regard to the direction of federal spending priorities for this year and in the near future.
The Public Policy Team realizes that these rapidly changing times require a more nimble and creative approach to staying up-to-date on everything important going on in D.C. We're working to do this through webinars, blogs, emails and social media. Recent webinars include Moving Forward in 2017: What the New Congress and Trump Administration Mean for Conservation, Health & Wellness and Social Equity and Park Champions: Bringing Capitol Hill to a Park Near You. We'll continue to post updates here on the Open Space blog and on social media (check out last week's Facebook Live session where we were able to take your questions and provide immediate responses and updates).
Stay tuned for updates and sign up to be a Park Champion!