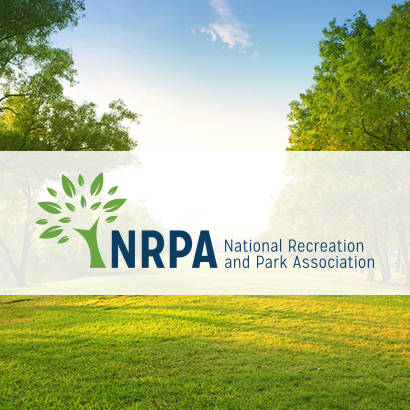 Here it is. The blog announcement that you have been holding your breath for... The National Recreation and Park Association has official updated their logo! Insert applause here…
Ok, so you probably didn't notice, and that's okay. We know NRPA revamping their logo is not trending like Pokemon Go and Donald Trump right now, but that's not going to stop me from giving you a quick overview of the evolution of NRPA's logo.
NRPA was formed on August 14, 1965, when five organizations, and the National Recreation Association (NRA), American Institute of Park Executives (AIPE), American Recreation Society (ARS), the National Conference on State Parks (NCSP), and the American Association of Zoological Parks and Aquariums (an affiliate of AIPE) each involved in the support of park and recreation services in the public sector, merged to form a single entity.
From 1965 through the early 70's, NRPA's brand was represented by this simple, yet timeless logo. The map in the center is broken up to show NRPA's eight regional branches at the time.
In the mid-1970's, NRPA made a radical logo change to the much more complex and representational version you see here. It appears that NRPA really latched on to this logo as they continued to use it into the mid-1990's, making it the longest tenured logo.
The logo was then redesigned to this version which pulls many elements from the previous iteration. Based on our research, this logo seemed to be used in various color combinations over time.
In the early 2000's, NRPA redesigned and simplified the logo once again. This is the version that NRPA has been married to until today.
And finally, the new NRPA logo. This design may not look new to some because it actually debuted last year as part of the 2015 NRPA Annual Conference logo. There was such a good response to it that we decided to adapt the design as our full time brand. The overall design, fonts and colors were all chosen to give the logo a fresh, modern feel. The new more vibrant shades of green and blue reflect the history of the brand, but also help give it more life. Over the past few years, we have made an effort to bring consistency across our entire brand. You will notice that the branding for most of our programs – Innovation Labs, Parks Build Community, Safe Routes to Parks, etc. – has a consistent look and feel that all tie back to the new NRPA logo.
We are excited about our fresh new logo, but to be honest, NRPA shouldn't even be known for its logo. We want to be known for our more than 50,000 members who work hard to better their communities every day. We want to be known for our efforts to make green space and healthy activities available to all people. We want to be known for our work to support the argument that parks and recreation are essential assets to all communities. No logo will ever be able to represent all of that, but our actions can and will. And hopefully this new logo will make us look good while doing it.


Matt Brubaker is NRPA's Senior Marketing Manager.