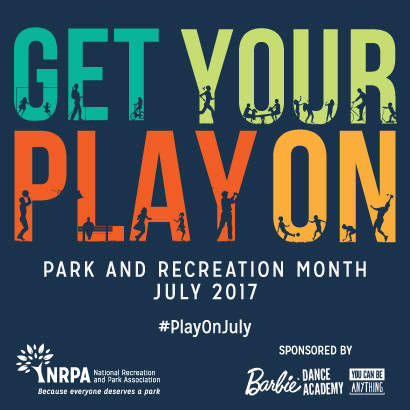 This July, discover the power of play and adventure. For children and adults, play is a vital part of our mental wellbeing, physical health and personal interactions. During Park and Recreation Month, NRPA is challenging everyone to get their play on with their local parks and recreation. Whether it's summer camp, an adult sports league, exploring a trail, Zumba class, meeting friends on the playground, playing cards in the park, or discovering nature — parks and play go hand in hand.
Park and Recreation Month Resources
Want some ideas? Check out how your peers have celebrated in the past:
Get Updates for July 2017
Sign up for our email list to be the first to know about all things relating to Park and Recreation Month including the theme announcement, contest opportunities and more.
Questions? Contact Roxanne Sutton, rsutton@nrpa.org.
2017 Park and Recreation Month is sponsored by Barbie Dance Academy.
Official Supporters of Park and Recreation Month
American Public Health Association (APHA)
American Society of Landscape Architects (ASLA)
America Walks
Association of Pool & Spa Professionals
CBS EcoMedia
International City/County Management Association
Lakeshore Foundation
Marathon Kids
National Afterschool Association
National Center on Health, Physical Activity & Disability
National Council on Aging's National Institute of Senior Centers
National Park Trust
Niagara Bottling
Osteoarthritis Action Alliance (OAAA)
Partnership for a Healthier America (PHA)
U.S. Department of Health & Human Services' President's Council on Fitness, Sports & Nutrition
Salud America!
Southwest Airlines
World Waterpark Association
Park and Recreation Month 2017 is also supported by the following park and recreation state associations:
Colorado Parks & Recreation Association
Florida Recreation and Park Association
Michigan Recreation and Park Association
Missouri Park & Recreation Association
New Mexico Recreation and Parks Association
North Carolina Recreation & Park Association
Pennsylvania Recreation and Park Society
Tennessee Recreation & Parks Association
Virginia Recreation and Park Society
Wisconsin Park & Recreation Association