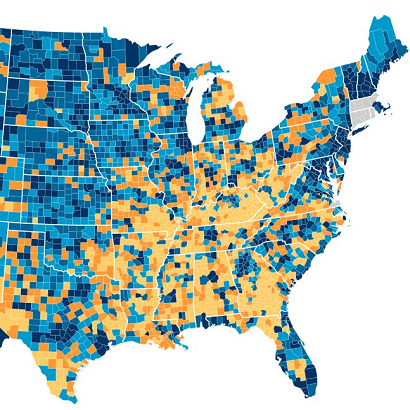 There are many additional resources available for free that provide data and maps to assist your agency in operating more efficiently. From the county-level to your local neighborhood, these public resources serve as a starting point for exploring data on a variety of topics. Whether you are creating a master plan, facilitating long-range planning, or building a park and facility maintenance schedule, these mapping systems and data repositories can provide key insights.
The NRPA Park Values Calculator is a starting point for determining the value of eco-benefits the park provides to the community. The categories available within the Park Values Calculator relate to environmental, economic, and social impacts, which reflect the greater value of parks and relate to a macro-economic picture.
Use the Water Values Calculator's interactive map to visit your area of interest and determine the ecosystem value of local parks and water bodies. The streams, lakes, and wetlands surrounding your parks all contribute to our survival and quality of life through direct and indirect ways. Gain insight toward the economic impact your parks and water bodies are contributing towards you community.
The NRPA Rectangular Field Value Calculator offers insight into the actual costs and benefits of rectangular athletic fields for football, soccer, lacrosse and other uses. This tool gives park and recreation directors a resource that calculates the annual costs and benefits of athletic fields within their agency.
Community Commons is a place where data, tools, and stories come together to inspire change and improve communities. Public access to thousands of data layers allows mapping and reporting capabilities for thoroughly exploring community health. The goal of Community Commons is to increase the impact of those working toward healthy, equitable, and sustainable communities. Providing access to tools helps users gain a deeper understanding of community assets, and then use data visualizations to convey that knowledge through partnerships and collaboration.
Social Explorer is a demographic data visualization and research website designed to engage users through dynamic maps and customizable reports. From research libraries to classrooms to government agencies to corporations to the front page of the New York Times, Social Explorer helps the public engage with society and science.
The National Equity Atlas was developed as a tool for the growing movement to create a more equitable, sustainable, and resilient economy. It is a comprehensive resource for data to track, measure, and make the case for inclusive growth in America's regions, and states, and nationwide. The Atlas contains data on demographic change, racial and economic inclusion, and the potential economic gains from racial equity.
The National Association of Counties has developed a visualization tool that provides key county-level information on a wide variety of topics: demographics, the economy, education, healthcare, and public safety. An interactive map allows users to explore a variety of indicators, such as population density, median household income, and number of endangered and threatened species. County profiles are provided to highlight data and information related to key policies and legislation.