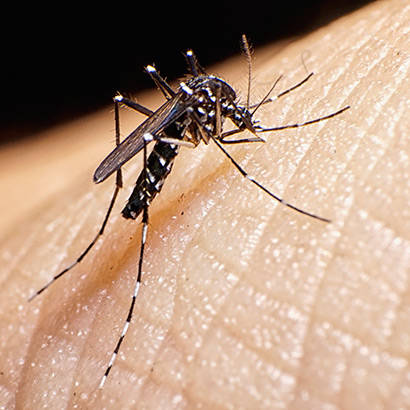 NRPA aims to ensure its members are prepared to play a key role in preventing the spread of Zika. As leaders in public health and public information, park and recreation departments will have an important role in educating the public as well as taking measures to control mosquito breeding grounds. As new information becomes available, NRPA will share it here as well as through its various communication channels.
Webinar: Zika and Parks: What You Need to Know
Centers for Disease Control and Prevention (CDC) expert Dr. Janet McAllister, a board certified Medical Entomologist and recently, CDC vector control team lead, presented the facts about Zika, how it is transmitted, and how it can be prevented. Jai Cole of the Maryland-National Capital Park and Planning Commission and Chris Matthews of Charlotte Mecklenburg Parks and Recreation outlined the steps their agencies are taking to educate the public and staff about the threats of Zika, as well as offer specific suggestions on effective actions that you can take to reduce the threat of Zika-carrying mosquitoes.
Survey Finds Only 1 in 4 Americans Plan to Alter Outdoor Summer Plans
NRPA conducted an online survey to determine whether or not American's planned to alter their outdoor plans this summer because of Zika. The online omnibus survey of 1,000 nationally representative Americans ages 18 and up was conducted in May 2016.
NRPA News and Information
Parks and Recreation magazine, June 2017 Issue
How to Keep Citizens Informed About the Threat of Zika in Your Community
by Landon Schenck

Increase communitywide understanding of the Zika virus, its sources, risks, symptoms and treatments with a comprehensive, year-round communication plan.
Open Space, September 2016
Zika Update #3: Preventing the Spread of Zika through Mosquito Control
by Richard J. Dolesh
The Zika virus has begun to spread in the U.S. through transmission by mosquito bites. Browse recommendations for what you can do if Zika is suspected or confirmed in your local area.
Open Space, July 2016
Zika Update #2: Protection for Outdoor Workers
by Richard J. Dolesh
The Centers for Disease Control and Prevention (CDC) recently posted a series of zika toolkits — online resources and information on how to prevent the Zika virus from being transmitted in outdoor settings. These toolkits contain lots of relevant information for park and recreation agencies as well as guidance for supervisors and outdoor workers.
Parks and Recreation magazine, May 2016 Issue
Zika and Parks: What You Need to Know
by Rich Dolesh

The Zika virus is coming to the United States, and it has prompted a very high level of concern on the part of public health officials at all levels. Media attention on Zika is white hot, and articles and reports are appearing on a daily basis. And it seems that each new finding about the effects of this mosquito-borne disease ratchets up fears to an even higher level.

So, what does Zika virus disease mean to parks and recreation? Are our employees and the public we serve on the front line of exposure? Do we need to take action, and if so, what kind? As the threat of locally originated cases of Zika grows, how can park and recreation agencies be best prepared to deal with this emerging public health threat?
Open Space, May 2016
Key Findings from Survey on Zika and Summer Outdoor Plans
by Kevin Roth
The Zika virus has been in the headlines over the past few months and it appears that one in four Americans are or will be changing their outdoor plans this summer as a result. This is the key finding from a poll conducted on behalf of the National Recreation and Park Association (NRPA) in mid-May.
Twenty-six percent of Americans say they are likely to alter their summer outdoor plans because of concerns with the Zika virus. Specifically, six percent of surveyed Americans said that they "definitely will" change their summer plans, seven percent say that they "very likely" will alter plans and 12 percent indicate they are "somewhat likely" to adjust plans this summer. At the same time, two-thirds of Americans do not anticipate a significant change in their summer outdoor activities as a result of the Zika virus while another ten percent told our pollsters that they are not familiar with the virus and its potential health effects.
Open Space, May 2016
Congress Gets the Ball Rolling on Zika Funding
By Oliver Spurgeon
After months of Congressional hearings, hours of expert testimony by some of the brightest minds in public health, and repeated warnings from advocates, including NRPA, about the dangers of waiting to mount a full-throated response to the Zika virus, Congress has taken the first step to paying for a comprehensive effort to ZIka's spread.
Open Space, May 2016
Zika Virus Update: New Potential Northward Spread Feared
By Rich Dolesh

There is a significant new development regarding the potential spread northward of the Zika virus with implications for large portions of the United States. For the first time, according to the Pan American Health Organization (PAHO), the Zika virus has been found in a species of mosquito other than the Aedes aegypti mosquito.

According to PAHO, a branch of the World Health Organization, Zika virus was discovered in a batch of Aedes albopictus mosquitoes collected in the Mexican province of San Luis Potosi. This is the first time in the Western Hemisphere that the Aedes albopictus, commonly called the Asian tiger mosquito, has been identified as a vector species for Zika virus disease.
Education Opportunities
Additional Resources
Your local and state health departments' websites for information specific to your region.