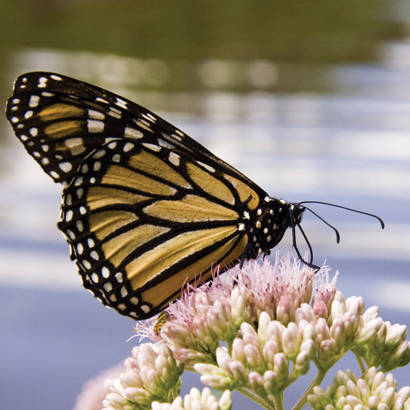 We have an opportunity to show the world what happens when parks across the country come together for a single purpose—saving the monarch butterfly. Local parks are poised to contribute to the national effort to save the threatened monarch butterfly by creating monarch waystations, planting milkweed and native plants, educating the public and more.
Not only can we make a real impact in preserving and restoring this important pollinator, we can also show the world the power of parks and recreation.
You can learn more about the specific activities implemented through Parks for Monarchs in 2016 here.
What's Happening to the Monarchs?
The monarch butterfly is the beautiful and iconic orange-and-black butterfly known for its extraordinary annual migration up to 2,000 miles one way from points all over the U.S. to overwintering sites in central Mexico.
Tragically, the monarch population has declined by an estimated 90 percent over the past 20 years, due to a variety of causes contributing to the loss of habitat and breeding grounds. It is estimated that more than 2 million acres of milkweed habitat is lost in the U.S. each year due to deforestation, development, and use of herbicides.
Thought of as a "canary in the coal mine," the plight of the monarch has become a symbol of the modern wildlife conservation movement. The restoration of monarch habitat by planting milkweed to support population recovery is critical for monarchs and other pollinators.
Resource Guide for Monarch Conservation
This new resource guide for monarch preservation provides a framework for how parks can get involved with monarch conservation activities, especially the creation and restoration of high quality habitat for monarchs. You'll also learn valuable information on how to create new partnerships for saving the monarch, and ways to engage youth and adults in the conservation of this valuable and much-loved species.




Conservation Poster
Parks play an important role in providing habitat for pollinator species across the country. But parks can't do it alone. Help us restore habitat for pollinators by learning which native plants are best for your area. Then, get outside and exercise your green thumb!
Download a PDF copy of our Conservation poster to display at your agency or share with the public.
Other Monarch Resources
To help you grow your monarch conservation practices, here are some great resources.
Partnerships
NRPA has been accepted into the Monarch Joint Venture (MJV), a partnership of national organizations and government agencies that are leading the way to restore monarch populations nationwide. By joining MJV, NRPA will be able to better connect our members and our network of parks to monarch conservation resources. Read more about the significance of this partnership.
Contact Us
Please contact us with any questions about Parks for Monarchs.