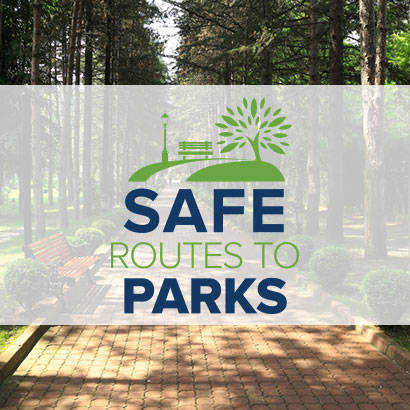 Research has found that individuals living with in a 10-minute walk to a park have lower rates of obesity and higher rates of physical activity, decreasing the risk of chronic disease and increasing mental health and general well-being. Yet communities most at need with the highest levels of health disparities have the least safe access to local public parks.
That's why NRPA created campaign around Safe Routes to Parks to implement environmental and policy strategies that create safe and equitable access to parks for all people.
If you are interested in partnering with NRPA to help communities across the country achieve the vision of Safe Routes to Parks, please contact Rachel Banner.
Action Framework
The NRPA Safe Routes to Parks Action Framework provides professionals with a "how-to" guide to implement Safe Routes to Parks strategies.
NRPA is currently piloting this framework with ten communities, learn more about those projects here.
Research Report
The NRPA Safe Routes to Parks Report provides professionals with well-researched information and examples to ensure parks are accessible to all users.
Promotional Materials
This animated video and infographics provide all the reasons why a walk in a local park is a great way to combat the obesity epidemic. Share the video and infographics to encourage more people in your community to walk in their local parks.