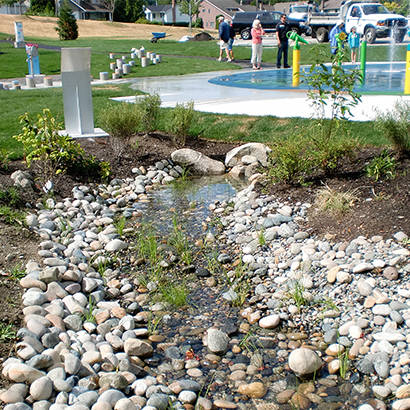 Managing stormwater is a major challenge for cities across the country. Traditional gray infrastructure is aging and increasingly frequent extreme weather events are overwhelming sewer systems - negatively impacting our health, local economies and the local environment, particularly in underserved communities.
NRPA created the Great Urban Parks Campaign to improve environmental and social outcomes in underserved communities through promoting and advancing green infrastructure stormwater management projects within parks. Green infrastructure uses natural processes to slow the flow of and filter water to protect and restore clean and healthy waterways. Additionally, it is an efficient way to increase community resilience by addressing stormwater runoff, reducing localized flooding, and increasing biodiversity and wildlife habitat while simultaneously providing communities increased access to recreational opportunities and to nature.
Community Engagement Grant Opportunity
The Great Urban Parks Campaign engages and empowers residents to be active drivers in the planning, design and implementation of green infrastructure projects in their parks in order to ensure maximum benefits are realized for the surrounding community.
NRPA is currently seeking applications from park agencies or nonprofit partners to support community engagement activities that educate and empower local residents to be active drivers in planning, design, implementation, and ongoing maintenance of a green infrastructure project in their local park.
Click here for additional information on this grant opportunity.
Demonstration Projects
NRPA is working in partnership with four cities to support large scale, replicable park green infrastructure projects that will serve as case studies for our membership. Find out more information on the projects happening in Baltimore, Atlanta, Denver and Pittsburgh by clicking here.
Green Infrastructure Improves Communities
Get a glimpse of how green infrastructure improves communities.
Resources and Training
NRPA is currently working with the American Planning Association (APA) and Low Impact Development Center (LIDC) to develop evidence-based educational resources and training for park and planning professionals to improve equity through green infrastructure and maximize multiple benefits.
Contact Serda Ozbenian with any questions.