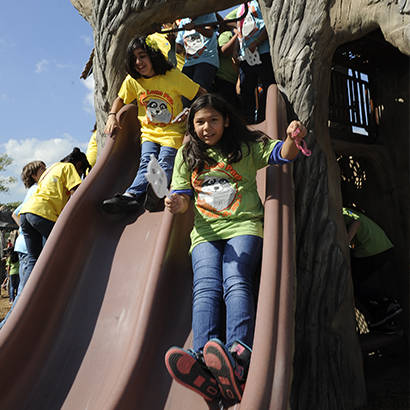 The 2013 Parks Build Community Project revitalized Shady Lane Park in Houston, Texas in conjunction with the annual NRPA Congress & Exposition. The park's original features included a small community center, an outdoor basketball court, soccer fields and a modest playground, all of which were heavily used by members of the community, many of whom walk to the park. This park and community center serve a predominately Hispanic and African-American community which is composed in large part of families with young children.
Now when visiting Shady Lane, community members find a completely revitalized and renovated park thanks to the work of NRPA, Houston Parks and Recreation Department, Houston Parks Board, and nearly a dozen partners.
Nearly 500 community members, NRPA members, local children and Houston elected officials, including Houston Mayor Annise Parker, joined in the ribbon cutting and reopening of this park on October 10, 2013. The local community is thrilled with the new park that features:
A new nature-themed playground that celebrates the natural environment and bayous in the play area designed by Merrie Talley of Talley Landscape Architects in conjunction with M2L Associates Landscape Architect and donated by PlayCore, a longstanding partner and donor to the Parks Build Community projects. The playground features a water play area, climbing log, tree house and a mini wetland complete with a replica bayou boat to be used for outdoor education.
Trails that will eventually link to the regional trail system.
Outdoor fitness equipment for community members to use to get healthy and fit while enjoying views of nature and open space thanks to Greenfields Outdoor Fitness.
An overlook and access point to the Bretshire Basin, a major flood-control and bayou restoration project of the Harris County Flood Control District and the City of Houston Public Works Department.
The revitalization of Shady Lane Park embraces the best of Parks Build Community by improving this important public space through park enhancements that honor the cultural roots and natural environment of this north Houston park.
Adding further improvement, Shady Lane Park was also selected for a $220,000 Urban Outdoor Recreation grant by the Texas Parks & Wildlife Department.
Please email Gina Cohen at gcohen@nrpa.org with questions or to help with future projects.