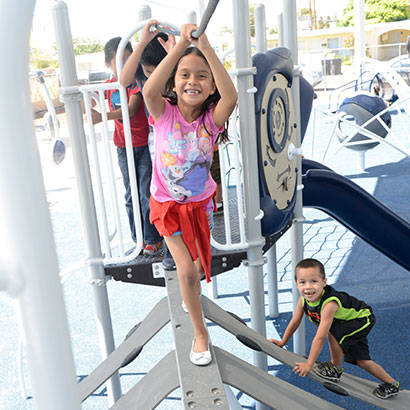 Continuing a tradition of leaving its annual conference city a little better, NRPA helped renovate a deserving park just outside the Vegas strip. Residents of the City of North Las Vegas were the recipients of the 2015 Parks Build Community annual park build. Joe Kneip Park, selected for this year's project, received more than a face lift; This park received new bones! Read about the project here. Thank you for joining us on September 17th for the unveiling of this great new park!
In the News
Media coverage of the unveiling of the revitalized park included a story by the Associated Press.
Thanks to the generous support of these companies, Joe Kneip Park's 2.2 acres were transformed into a high quality and inviting public space dedicated on September 17, 2015 to the more than 4,000 nearby children and their families who deserved a fantastic park to grow up in. Please email Gina Cohen at gcohen@nrpa.org with questions or to help with future projects.