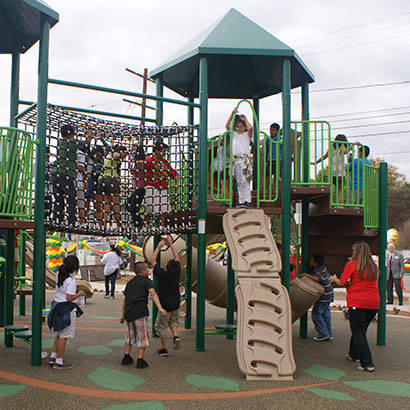 In 2012, NRPA was pleased to work with partners to complete a third Parks Build Community project in the City of Los Angeles.
The site for the park at El Sereno was a one acre parcel of unused land owned by Caltrans, the state transportation agency. It was intended to be part of a never completed interstate highway connector. Sitting vacant for decades, the parcel originally caught the eye of the Los Angeles Department of Recreation and Parks in their search to bring more local parks to underserved urban communities.
The needs of this community for open space and play areas are great. This easternmost district of Los Angeles has the highest percentage of all areas in the city of children under the age of 10. There are no parks within a half mile of the site, and only one park within a mile of the site. Moreover, more than 5,000 kids age 5 or younger live within two miles of the site.
The extraordinary efforts of the partners—NRPA, Trust for Public Land, Los Angeles Neighborhood Initiative, the Los Angeles Parks Foundation, under the leadership of the Department of Recreation and Parks, produced a jewel of a park for young children. It features:
A Nature Play Garden adapted to younger age children funded by a grant from the First 5 Commission.
A full state-of-the art 4,000 square foot playground donated by Playcore.
Adult fitness zone, a walking path, picnic tables, benches and 4 beautiful art mosaics.
A celebration for the El Sereno Arroyo Playground was held on Thursday, October 18, as part of the 2012 NRPA Congress and Exposition. The Mayor of Los Angeles, Antonio Villaraigosa along with leaders from the valued contributors and partners as well as community members and children from the Cesar Chavez Elementary school participated in the ceremony to welcome this area into the community. On Saturday, December 8, the El Sereno Arroyo Playground was officially opened for the community to enjoy. The name was developed and selected by the community members in the area.
Please email Gina Cohen with questions or to help with future projects.