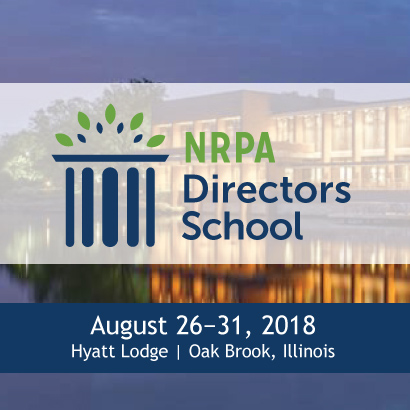 The NRPA Directors School is an exclusive professional development opportunity designed to prepare new and potential directors of park and recreation agencies for the challenges of leading and managing effectively. Potential attendees must first apply to the Directors School. Once accepted, they will receive instructions on how to register.


August 27 – September 1, 2017
Oglebay Resort and Conference Center
Wheeling, West Virginia
Year Two students can register by calling the Oglebay National Training Center at 1-800-624-6988, then press "7".

Scholarship Information
Applications were accepted for the Toro Directors School tuition assistance scholarship program through June 30, 2017. Notifications will be made by July 14, 2017. This scholarship program was made possible through the generosity of The Toro Company and The Toro Foundation.
Learning Objectives
The learning objectives are based on the CAPRA standards and the Management of Parks and Recreation Agencies text.
Identify qualities of a good manager and develop the management skills required to run a successful park and recreation agency.
Develop the skills necessary to evaluate a park and recreation agency's organizational structure and administrative procedures.
Develop proficiency in designing and implementing agency strategic and marketing plans.
Build an improved leadership skill set.
Evaluate and identify the legal responsibilities and implications related to park and recreation agency operation.
Develop and implement performance management systems to evaluate the performance of agency personnel and the overall success of the agency itself.
Prioritize programs and services in order to maximize positive impact on their communities.
| | |
| --- | --- |
| Year One Session Topics: | Year Two Session Topics: |
| Sustainability | Evaluation and Performance Management |
| Economic Benefits | Presentation Strategies |
| Strategic Planning | Creating a Culture of Excellence |
| Community Involvement/Engagement | Employee Supervision |
| Program Development and Evaluation | Program Development and Evaluation, Part II |
| Marketing, Public Relations and Branding | Human Resources Management/Supervision, Part II |
| Human Resources Management/Supervision | Managing Technology |
| Leadership | Risk Management, Safety and Security |
| Legal Issues | Resource Planning and Management |
| Alternative Fund Development | Emerging Issues and Trends |
| Positioning for Political Success | Team Case Studies |
| Employment Practices Liability | Think Tank |
| Think Tank | Maintenance and Operations |
| Emerging Issues and Trends | |
| Creating a Culture of Excellence | |
| Alternative Fund Development | |
| Operating in a Political Environment | |
| | |
Who Should Attend
This two-year program is perfect for
Current park or recreation directors;
Current park or recreation assistant/deputy directors; and
Mid-level managers being groomed for a park and recreation director position.
Participant Insight
Check out Chris Umphres from Kansas. Where will Directors School take him?
"To reach my goal to become a P&R Director and compete in the ultra-competitive recruitment process, I needed every edge possible. Directors School helped me gain that edge. It provided me basic knowledge and tools to use, demonstrated to the hiring City Manager that I was dedicated to the industry and gave me the confidence to share my skills at the highest level. If it's your desire to become a P&R Director, you should be at this school." --former participant
"This has been an awesome and wonderful experience. I only wish I had attended sooner. The classmates, instructors, accommodations and observers were great. The diversity of the school is an invaluable asset as practices, views, philosophies, differences, and commonalities are all brought together for the enrichment of all. My spark is now a healthy flame that is burning bright and hot and my aim is to re-light the flame in those I manage and lead in hopes of motivating in spite of our challenges. Thank you NRPA and Oglebay for a wonderful experience." --former participant
"My favorite aspect of the Directors School is [the] ability to network and share with some awesome people. 'D School' is a special place." --former participant
"I am very impressed with the NRPA Directors School. Although the program was intense it was worth every moment." --former participant
"The expertise offered during Directors School is exceptional and the networking opportunity is invaluable." --former participant
Future Directors School Dates
August 27 to September 1, 2017
For more information about the program content, contact customer service at customerservice@nrpa.org

For more information on registration and other details, contact Oglebay Resort and Conference Center at ntc@oglebay-resort.com
The three sponsoring organizations of this event are: The Oglebay National Training Center, National Recreation and Park Association, and The Department of Parks, Recreation and Tourism Management at North Carolina State University.
**Qualified applicants who submit an application and get accepted are not obligated to attend.
Sponsored By