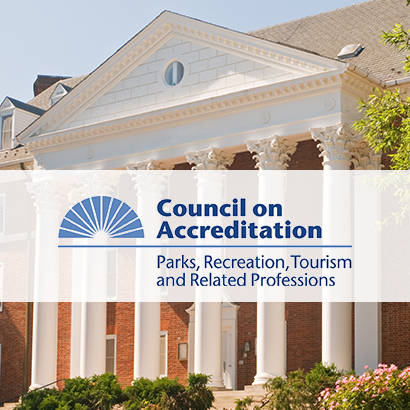 The Council on Accreditation of Parks, Recreation, Tourism and Related Professions (COAPRT) recognizes academic programs in colleges and universities that prepare new professionals to enter the parks, recreation, tourism and related professions. COAPRT Accreditation is a status granted to an academic program that meets or exceeds stated criteria of educational quality. In the United States, accreditation of professional preparation curricula is conferred by non-governmental bodies, which are often closely associated with professional associations in the field. COAPRT accredits baccalaureate degree programs in this profession. Read an overview of the COAPRT Accreditation process.
The COAPRT Handbook will also provide additional information on the process of obtaining accreditation.
COAPRT is recognized by the Council for Higher Education Association (CHEA).
Important Information Regarding Degree Mills and the Value of Accreditation
Please watch this important video regarding degree and accreditation mills. According to CHEA, "Degree mills and accreditation mills mislead and harm. In the United States, degrees and certificates from mills may not be acknowledged by other institutions when students seek to transfer or go to graduate school. Employers may not acknowledge degrees and certificates from degree mills when providing tuition assistance for continuing education. "Accreditation" from an accreditation mill can mislead students and the public about the quality of an institution. In the presence of degree mills and accreditation mills, students may spend a good deal of money and receive neither an education nor a useable credential." Read more on CHEA's website.
CHEA defines accreditation as "the primary means of assuring and improving the quality of higher education institutions and programs in the United States. Active for the past 100 years, this private, voluntary system of self-examination and peer review has been central to the creation of a U.S. higher education enterprise that is outstanding in many respects." Read more about the Value of Accreditation.
Academic Accreditation Community
NRPA Connect includes an open discussion group for Academic Accreditation. The group is open to anyone interested in accreditation, pursuing accreditation, and for those already accredited. Use the group as a tool:
Share accreditation documents or request examples (plan, policies, procedures, etc.),
Share lessons learned from a COAPRT visit,
Network with other agencies going through the process
Resources
For direct assistance, please contact COAPRT@nrpa.org or 703.858.2155.
Do you have a question/comment or would you like to provide feedback regarding the COAPRT accreditation process? Please submit your question or comment via the online form and someone will be in contact with you.